You too can help your customers try the best-selling and most accurate automatic elevated body temperature scanner. The SmartXcan has been deployed over 10,000 times in more than 40 countries helping to reduce the risk of disease spreading.
Compared to many other solutions on the market, it measures and alerts on elevated body temperature more reliably and precisely using a scientific approach while honoring the international standard IEC 80601-2-59.
Check out what other integrators wordwide are doing and offer your customers your own SmartXcan solution for effective COVID-19 as well as flu prevention.
DONE RIGHT - Contactless Elevated Body Temperature Screening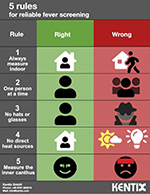 Contactless elevated body temperature screening is one of the most pragmatic measures in the fight against COVID-19. However, this only applies if the measurement is carried out accurately.

FAST and EASY Installation with our Stands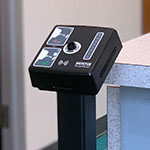 We now offer a US-made custom stand designed to Kentix's specs and built of powder-coated steel. This stand will enable you to move the unit around until you find the perfect position for your customer site, making scans easy and comfortable.

KNOW THE ENVIRONMENT YOU'RE IN! IP-based Air Quality Measurement and Alerts are the Next Big Thing from Kentix IOT
Besides watching for elevated body temperatures, it's equally important to monitor the air quality and level of aerosols & carbon dioxide in a room. The new Kentix Multisensor TI can not only help with that but is able to trigger automated ventilation systems or simply give alarms when levels are above what they should be.


Double-up on Keeping Everyone Safe with People Counting
Smart ideas come sometimes in small boxes, welcome to the Kentix MultiSensor TI. The new MultiSensor TI truly is a powerhouse when it comes to measuring and analyzing not only the environment but also movement. In short, the MultiSensor TI is the authority when it comes to reliable people counting.
People counting in general can be divided into 2 different focus applications: Presence Counting and Passage Counting. Presence counting watches over a set area to ensure that only a certain amount of people is present in an area at the same time. Passage counting watches over doors to know exactly how many people have entered and exited. The goal for both disciplines is the same: warning people who like to enter a room or an area if it is safe to do so.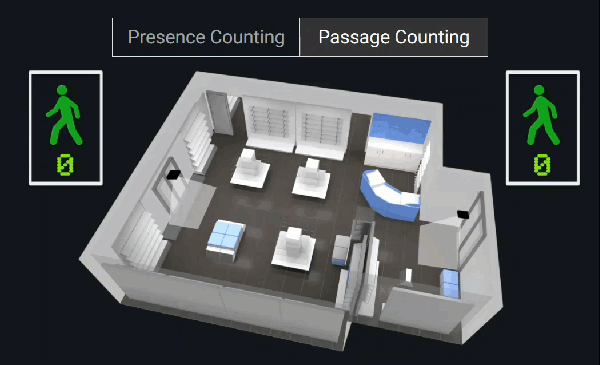 Dynamic Temperature Correction (DTC) - When, How & Why
Let's say it is a crisp 30°F outside and you just got to work. Naturally, your face temperature is way below normal body temperature. How would you get an accurate body temperature reading? That's where Dynamic Temperature Correction comes in.
Please contact us if you have any questions by calling 972-831-1600, option 3 or emailing sales@abptech.com.