Protect Critical Infrastructures and Operations from 37 Threats Like Fire, Water & More with One Kentix MultiSensor®
Kentix Smart Environmental Monitoring and Smart Access Solutions help you secure and sustain your clients' critical infrastructures and operations. Plus, if you want to add a new line of recurring revenue - and who doesn't? - profit from an Mx-MSP™ or IPTechView™ integration that allows both you and your customers to have a complete visual overview of IP Technology deployments.
Just like a firewall protects data, the Kentix MultiSensor® protects a network's physical infrastructure. It's a compact - yet powerful - device. A single Kentix MultiSensor® replaces multiple individual solutions - like temperature and humidity control, alarm, intrusion or presence detection, smoke, gases and/or early fire detection - saving about two-thirds of the typical cost, while channeling these alarms in a more targeted way.

Kentix MultiSensor®s are completely IP-based and are easily integrated with other systems like alarm, access control and IP video surveillance - even in a distributed IT infrastructure. The product line is ideal for all classes of critical assets or technology deployments like IT projects that are distributed in multiple IT rooms, closets and cabinets. The solution is scalable up to 500 MultiSensors. The Kentix MultiSensor® can operate over Ethernet or, optionally, will support a 3G/4G/LTE wireless carrier to send notifications by simply adding a SIM card. Using a wireless carrier and SIM card means system health monitoring can be run on a completely separate network from the monitored system, creating a redundancy that alerts even when the network is down.

Kentix MultiSensor® is ISO27001 Certified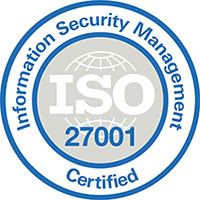 The Kentix MultiSensor® all-in-one environmental monitoring solution that detects up to 37 physical threat situations - like fire, water, gases and different types of intrusion in IT and data center spaces - had received renowned ISO27001 certification. ISO27001 is the European gold standard in protection requirements for Information Security Management Systems (ISMS) and is rapidly becoming a worldwide regulatory requirement for protecting all critical data equipment.
ISO27001 certification is an excellent standard that should serve as the model for all organizations and businesses entrusted with storing data. Moving toward stringent standards like ISO27001 - even though they aren't yet a requirement in the United States - can help security providers enact the end-to-end protection that is so critical to comprehensive security operations.
Embracing important standards to educate customers will help protect them from the serious repercussions of not being prepared. It also offers a great starting point to communicate the recommended requirements. Peace of mind has always been a valuable asset. Now you can sell customers a safer and less risky environment and give them that peace of mind.

Kentix Access Control: Manage Hundreds of Doors With No Software Fees & No Servers
Kentix has developed an Access Control solution that is less expensive than competing systems, requires less equipment and takes less installation time - with no software fees and no servers.
The Kentix Access Control solution is a blended system of a PoE edge-devices, smart on-door wireless locks and wireless server cabinet locks running on an embedded, license-free, zero-cost software solution with Active Directory that can scale up to 1,500 locks.

Kentix's impressive Access Control option allows for wiring of high usage doors by installing an IP edge device near the door. Kentix calls this the Network Relay Module (NRM) which is powered by PoE and provides power to two door locks (strikes or Maglocks) and inputs for the door hardware. The NRM can be installed in a cut out above the door or anywhere nearby and only needs a small 2" x 3" space. NRMs also can be installed in the area where old access control units were located and use old wiring for the readers and strikes, making it easy to for system change-outs for a takeover from a bulky conventional access system.
The minimalistic design of Kentix's Access Control solution serves an aesthetic purpose; it's a slick, small cube that is made to operate efficiently. It's also designed to secure the network since the PoE connection stays inside and does not go to the door reader. This eliminates the threat of vandals or attempts to infiltrate a network via tapping into an RJ45. With Kentix Access Control, only one RJ45 is needed for two doors and the elegant and backlit readers are connected via a secure proprietary encrypted four-wire connection.
The Kentix Access Control system interfaces directly into the Kentix MultiSensor® environmental monitoring system with intrusion detection, or it can be used as a stand-alone access control solution. All doors controlled by Kentix can also be linked to nearby Mobotix IP video surveillance cameras and programmed to record video of all access control events for easy auditing and referencing.

Upcoming Events
Contact your ABP Sales Rep for more details about this product line by calling 972-831-1600 x3 or email sales@abptech.com.