| | |
| --- | --- |
| thirdlane™ | |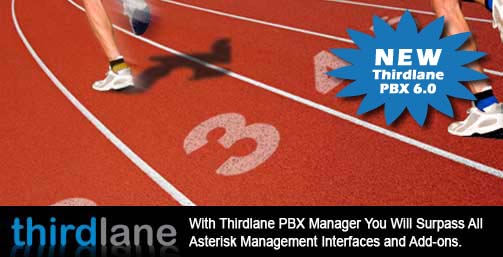 Available as Thirdlane PBX, Thirdlane PBX Manager GUI or
Thirdlane PBX Manager Multi-Tenant
Thirdlane PBX Manager GUI is an intelligent Graphical User Interface for Asterisk Open Source or Digium's Asterisk Business Edition to management an Asterisk based phone systems. It is a very user friendly and intuitive product that allows you to configure your base PBX very quickly and makes day-to-day PBX maintenance accessible to less technical users, while keeping unlimited asterisk features, and the capability to extend the system using Feature Codes and scripts.

Thirdlane PBX Manager is available in a Single-Tenant or Multi-Tenant versions. The Multi-Tenant version of PBX Manager allows for multiple virtualized PBXs to be set up on the same Asterisk box. These PBXs are completely independent and have their own administrators, users, extensions, routes, call queues, media files, etc.
Thirdlane PBX Manager provides a web management interface for Asterisk which greatly reduces the time and effort required to configure and manage Asterisk based PBXs. While providing a simple interface for the day-to-day PBX management, this software does not limit users in implementing of custom features and advanced customizations, and the Thirdlane Outlook Dialer plug-in for Outlook is included FREE in all Thirdlane editions.
Thirdlane PBX or the combination of Asterisk and Thirdlane PBX Manager GUI constitute a professional full featured PBX at a fraction of the cost of traditional PBX and key systems, while providing a level of functionality exceeding that of many of the most expensive systems available.

Thirdlane provides a powerful, clean interface for users and administrators, while giving integrators full access to the underlying Asterisk platform for configuring or creating customized IP Telephony solutions. They can plug-in their own modules without complicating support or upgrades Some of the PBX 6.0 Highlights are:
Cluster management, enabling service providers and system administrators to manage multiple servers from a single management console with a single sign-on
Enhanced auto-provisioning that supports more phones out-of-the-box and extends VAR's ability to customize the provisioning process
Enhanced conference configuration and management, delivering full-featured conferencing with real-time conference control through a rich Web interface
CRM Integration with pre-configured connections to popular CRM solutions and search engines, plus the ability to custom-configure screen pops with any Web-based CRM
Thirdlane PBX 6.0 is available now.
ABP in-house support for all ABP premium support plans and P3 partners as well as Thirdlane Vendor support available at competitive rates.
Contact ABP to learn more about the different Thirdlane options, how they fit into your application if you are a Reseller or your production environment if you are a Managed Services provider.
Download Demo of this professional package to try for yourself.
Easy Installation. PBX Manager GUis a Web administered Webmin module and can be installed in minutes without requiring any database or web server software. PBX Manager's installation or upgrade is just a matter of pointing at a URL and clicking install button.
Easy Operation. No special knowledge of Linux or Asterisk is required for the operation, so the management functions can be performed by a regular staff. PBX Manager's permissions system can be used for limiting user's access to the system features as required.
Extensibility. PBX Manager is shipped with a set of sample configuration files and a script repository for the common PBX functions. You may extend the included script repository with your own scripts taking advantage of the full power of Asterisk.
Easy Support. Use of Webmin as a platform for PBX Manager facilitates remote technical support. This is particularly important for the system integrators deploying Asterisk and PBX Manager for geographically distributed clients.
PBX Options - general PBX configuration and system defaults management.
Generator - bulk generation of extensions, devices and mailboxes
Trunks - management of PBX connections to service providers or other PBXs
Routes - management of outbound dialing
Schedules - management of office hours' based call handling rules
Inbound Calls - management of inbound calls and DIDs
Extensions - dial plan management and assignment of scripts to extensions
Phones - management of devices (phones)
Mailboxes - configuration of user mailboxes
Voice prompts - voice prompt recording
Voice Menus - configuration of Auto Attendant and multi level voice menus
Queues - management of ACD and all queues
Music-on-Hold - management of on hold music
Scripts - creation of scripts for call handling (used by Extensions Manager)
Conferences - configuration of conference rooms
Configuration Editor - direct access to Asterisk configuration files
Command Shell-web interface to Asterisk command line interface
Files - intelligent upload and download for various configuration and support files
Call Detail Records - display of Asterisk CDR
Thirdlane PBX Manager - Administrator's Guide
Thirdlane User Portal - User's Guide
Thirdlane PBX Demo (login: demo; password: insecure)