c25 and i25 - The Newest Addition to the Hemispheric Camera Line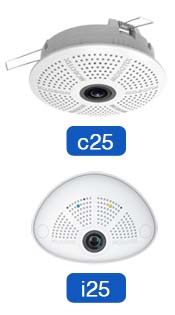 The new c25 and i25 cameras are the smallest and lightest Hemispheric MOBOTIX cameras yet for indoor use. Standard features include a light-sensitive 5-MP day or night sensor, 4-GB MicroSD memory card that can be expanded up to 128 GB, HD sound microphone and the latest camera software including MxActivitySensor and MxAnalytics video analysis tools.
A particularly high-quality fish-eye lens with a 360° image angle that has been developed especially for MOBOTIX is used in all current Hemispheric MOBOTIX camera models including the new additions c25 and i25. This L12 lens meets the extremely high MOBOTIX quality standards and the L12 aperture of f/2.0 is optimally adapted to the hemispheric lens. The integrated Lowlight Exposure Optimization, MxLEO facilitates high-contrast images without motion blur, even in poorly illuminated surroundings.
The c25 and i25 deliver images up to 5 MP with an extremely high level of detail. Thanks to the panorama technology developed by MOBOTIX, one single camera can discreetly secure an entire room without any blind spots. This ensures a better overview than several individual cameras while still offering the possibility to zoom in on details. This significantly reduces the total cost and number of cameras required.
The camera-integrated MxAnalytics video analysis makes it possible to collect statistical behavioral data from people and objects. This is done by defining recognition zones and counting corridors. The camera then records how often each counting corridor is crossed within a specified period.
With the new camera models c25 and i25, MOBOTIX offers an affordable hemispheric camera specially designed for walls or suspended ceilings in indoor areas.

ABP-POE-EX2 - PoE Duplicator & Extender for IP Technology
We frequently have projects that require a second IP port at the end of an Ethernet cable. Most of the times we had to use a small 8 port switch that seemed overkill for many applications that just needed two devices. In some cases customers would use cheap consumer brand POE switches to save money, but these would often become early points of failure, frequently within less than a year. We looked for a professional and long lasting product that would allow splitting a single Ethernet cable into two PoE ports.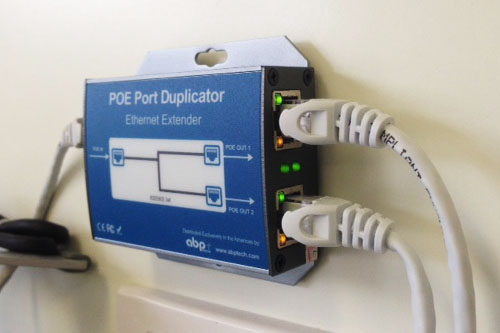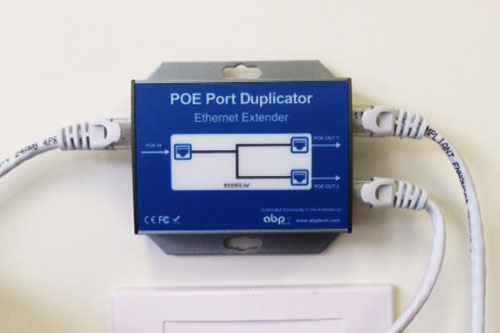 Our new POE extender takes a single PoE feed and acts like a mini PoE switch that is PoE fed (No need for extra Power) and splits it into two separate PoE Ethernet cables. Now two device can be used with one cable run.
The unit can be used for just two devices close to the Unit or even as a POE extender for up to two devices. The first ethernet cable can be up to 300' and the second one up to 600'. The device works with up to 15W input and 1 x 15W output or 2 x 7.5 Watts output.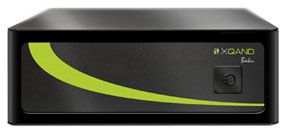 XQAND - The Securest Video-Storage for IP Video Cameras
XQAND Baku is a specially designed NAS for data storage for installations of smaller video surveillance systems (up to five MOBOTIX cameras). The compact device with a 12V/DC power supply allows mobile use. The system will be delivered in a pre-configured state so that process to install will be done fast and easy. It comes with one Terabyte sized hard drive already embedded. The Baku Solid version comes with a vibration-proof 512 Gigabyte SSD flash memory.
Let us help you with your next project. Please call us at 972-831-1600, #3 or email sales@abptech.com