Yes, We are Truly in this Together!
We're living through an unprecedented time. The traditional workplace is going through one of the most rapid technological transformations in history - right before our eyes. Almost overnight countless business offices and warehouses have been designated 'non-essential' and therefore vacated and stand idle. Luckily, like you, we are fortunate enough to offer 'essential' solutions to help safeguard and remotely manage people and assets - anywhere, anytime.
After adapting to our "Interim normal", protecting health and family, your and our next task is to help everyone with their business continuity. In this 

update

 we've put together a list of high demand IT & Physical Security solutions that are needed today, will sell & exceed expectations, will deliver right away, and that we can fully stand behind and support. 

RAPID SURVEILLANCE SYSTEM DEPLOYMENT
MOBOTIX cameras, together with our cloud-based 

MxMSP

/MxLINQ platform, work out of the box and can be set up remotely to provide your customers instant visibility and situational awareness of their premises - on existing MOBOTIX systems or with new cameras.
Integrators can order pre-configured cameras for their customers that can be installed in minutes and be securely & remotely fine-tuned.  

MxMSP

 makes MOBOTIX one of the easiest surveillance systems to install and configure while offering the potential of a lifetime of secure cloud-based remote support. 
Our customers tell us our new delivery system is a game changer for them. Resellers tell us they went from 2 days on-site to 90 minutes. No risk of forgetting anything either since you have secure remote access.  You don't even need to train the customer. MxLINQ the end-user module is as easy as a phone app.  Users get it, and can do everything they need on their phone or their desktop for a larger screen experience in a matter of minutes.
Pre-assembled cameras from ABP with pre-configured 

MxMSP

 accounts and project settings makes deploying cameras a snap. If a partner does run into an issue, we can always remotely & securely support any camera on demand.
Please reach out to us so we can explain in more detail how it works and we can discuss the unique benefits to your users and why this is of incredible value in today's social distancing times.
OK, so you're thinking so what. Who will buy a new Surveillance System these days? You would be surprised but most importantly let us share some new concepts with you that make a huge difference. 
THE ONE, TWO CAMERA SURVEILLANCE STARTER KIT
So imagine being able to drop in a single camera, i.E. a c26 or c26 + i26 two camera combo pre-configured (less than $500 or $1000 hardware) plus installation and providing full visibility to all ingress / egress, and integration with any alarm system. You would be able to set all this up in less than an hour with no messing with routers and no need to touch your customer's cell and still give him full remote access on his phone, pad or laptop. 
'REMOTE VIEWING' & SITUATIONAL AWARENESS
Offices and shop floors may have limited essential workers. There is a need to see these spaces to ensure security, localize people and things and know what's going on. While MxCC and MxMC can be accessed over a VPN they are hard to use and slow to access. MxLINQ makes any MOBOTIX project instantly mobile accessible and is intuitive and easy to use and requires no user training.
UPGRADE ANY MOBOTIX SYSTEM TO THE CLOUD
IPTECHVIEW's  MxLINQ Cloud is a well-tested solution that has been in production since October 2017. We require no bridge device, no extra hardware or servers are needed. (No hardware cost and installation.)
Just request your FREE 

MxMSP

/MxLNQ Partner Account sign-up to take the platform for a spin and learn how to start provisioning your customers cameras and providing your customers secure cloud access to their MOBOTIX system. It's easy! You will simply run the 

MxMSP

 Provisioning Tool once from your customer's network to set up his cameras and connect them with IPTECHVIEW's secure cloud server for MxLINQ. Then you will send your end user an email or SMS with a link and credentials to access his MOBOTIX system. (This initial setup can even be done remotely with a local participant helping launch the tool on the inside of the network for you.) ABP will help MOBOTIX Partners do this for FREE.
Yes, you can do this on all MOBOTIX systems you already sold with Mx4 cameras (M14, M24 and Q24) or newer.
WHY ALERTS AND PROACTIVE RESPONSE ARE A GAME CHANGER
MOBOTIX's biggest strength is its decentralized architecture - the fact that each camera is an autonomous computer that can be programmed to watch over certain situations, triggers and proactively notify, play audio messages, turn on lights or do other IoT functions to protect or dissuade actually prevents bad things from happening and save customers money and grief. Go beyond having a perfect video of something bad - build a solution to prevent it!
MxLINQ takes this to a whole new level. Alerts and notifications can be programmed to respond to triggers like ActivitySensor or different AI Tech analytics. Notification rules can be customized via phone, tablet or laptop by the users themselves. Different users can track different issues during different times and control these independently for themselves. 
Someone is in the warehouse at 5 AM. Warehouse Manager gets an SMS and on inventory days can turn things off. The Director of Operations gets an email of incidents and status changes. Activity in front of the warehouse gates at night? Turn on the lights and blast an alert saying the area is being monitored and authorities will be notified if any unlawful activity is detected. Program remote button on phone to control lights, gates or other things connected to cameras IoT ports.
ALARM SYSTEM INTEGRATION WITH ALARMREADY™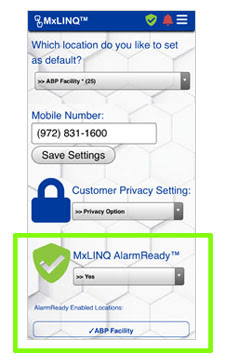 We are in unique times. Get an SMS whenever the alarm goes off with a link to immediately see what happened at any location with your MOBOTIX cameras or forward the video link to your monitoring company.
For customers to see live video and recorded events after an occurrence is more important than ever. Regardless of owner-self-verified or if the alarm is being monitored, how will anyone know if it's a false alarm or not?
IPTECHVIEWS AlarmReady™ can be combined with AI in Mx73 cameras or with a Calipsa - a cloud-based A.I. person or the vehicle detection option - on all other MOBOTIX cams, integrated with IPTECHVIEW's platform to eliminate 99% of false alarms and ensure your customer gets actionable, critical positive alarms.
AlarmReady notifies owners, managers and alarm monitoring companies by SMS and/or email or API with a link to see current and recorded activity after the alarm and provides timely and actionable intelligence. 
READ MORE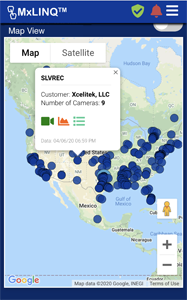 In case you missed our last update, it was our End of Year release EOY2019 and included the following highlights, features and improvements:
Map View - enable users to graphically navigate to any location on any device, from phone to laptop or desktop.
Time-lapse - any camera with activated Cloud Storage can now generate time-lapse images at a selectable interval from one image per day, per hour, all the way down to 1 frame per minute.
Archive Vault - store and manage video events of interest beyond the set retention time. The archive is organized into categories.
- Video Clips marked by users as videos of interest and will automatically be stored for 365 days from last view of any time custom set by the user for up to five years. ​
- Multi-Event Video Clips created by selecting time ranges and generating video for special purposes, i.e. LEA
- Time-lapse Videos made by users can also be stored and managed.
- EBT Alert (Elevated Body Temperature Alerts Log) events will be stored in separate sections for special authorized users only. (BETA)
Auto Scaling & Security were one of the big things for EOY2019. We had been working on these since summer and required a full system changeover. All features were tested during months to come together in our new EOY2019 version to be released over the holidays 

As we transition into the EOY2019 release, we had a few challenges and some performance issues but we're back at our normal smooth operation and 99.99% uptime SLA level after a few days.  
In February we soft-released our expanded low-bandwidth mode for MxMSP/MxLINQ Cloud Storage.  This now includes time-lapse. Still-images will be collected from SD cards even if the site has fluctuating or sporadically failing connectivity. In a future release, we plan low-bandwidth mode to get an option to manually request specific video events of interest on SD card and on the timeline to load-on-demand.
Mx73 camera support for MxMSP and MxLINQ is now available for the currently released sensors. More to come soon including A.I. Tech management support on MxMSP and A.I. Tech Analytics Alert notifications over SMS and email over MxLINQ. This is a camera that you absolutely want to have secure full remote access to.
MxRecGuard 2.0 We upgraded our original MxRecording Guard to which will now reliably notify if any cameras stop recording or if any SD cards are failing and was designed to provide mission-critical monitoring to any MOBOTIX project regardless of which VMS the customer is using.
MxRecGuard2.0 will help make MOBOTIX Surveillance Solutions super robust and enable partners to provide a mission critical level of service as part of their recurring revenue strategy.  
Our goal is to give you world-class unique solutions coupled with a high-level of services to help you grow your business even in these difficult times. Together we can make it happen!
Enterprise Class User Management  ActiveDirectory and Google Single Sign-On Option is available for larger customers. Our largest account will be using close to two thousand users to access hundreds of locations with thousands of cameras.  Multi-Site projects are one of the fastest growing opportunities for our partners. Now we do have to warn you. MultiSite IT managers that get exposed to MxMSP are highly likely to demand you upgrade their system to MxMSP/MxLINQ. 

Your past projects are working great; however, remote visibility, access to recordings, sharing of recordings, access to heatmaps, people counting, analytics and many other great features MOBOTIX provides, have proven elusive and hard to access for many of your end users.
With IPTECHVIEW's MxLINQ™ you can easily upgrade your customers' systems with no extra hardware needed and let them unleash the full potential of their MOBOTIX solution. Now is a great time to provide them situational awareness and secure access to their system.
We are very excited to be able to share these new solutions and many more the next time we talk in person. We hope we inspired you to take a closer look at what you can do with MOBOTIX and IPTECHView's unique and innovative platform.
Let us help you grow your Surveillance Solutions together!