JUNE UPDATES & IMPROVEMENTS
We are excited to share with you news on the launch of the most frequently requested features that we just rolled out. So here's what is new: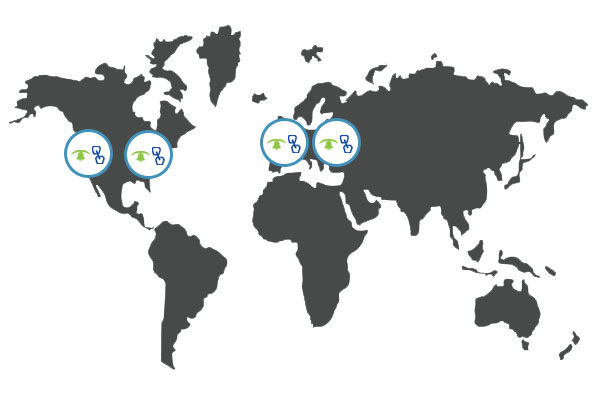 IPTECHVIEW MxLINQ now is being used in more than 20 countries so we upgraded our platform to offer redundancy on two continents. We now have POPs (points of presence) in the West and East U.S. as well as Frankfurt and Paris in Europe. All data is encrypted and stored redundantly on each regional block. Global connectivity gives our platform excellent latency and ensures local legal storage requirements. 

IPTECHVIEW had triple-digit growth in Cloud Storage for three quarters in a row. The fast growth in extra data traffic became a huge challenge but also an opportunity to illustrate that we could master it. With thousands of Cloud cameras on our platform we had an opportunity to literally accomplish in practice what we knew in theory we designed the platform to do. Our team rose to the occasion and we made significant changes that helped us not only keep up with the volume but get ready for several orders of magnitude of growth. After three months of incremental improvement of our recording platform to adapt to and capture all aspects of what we learned in our first 24 months of operation, we were able to achieve huge speed incremental improvements and fine tuning that helped us maximize our throughput of MOBOTIX cameras beyond what we ever thought would be possible.
Our upgrade lets MOBOTIX cameras store video and operate in environments dependent on lower bandwidth connections while at the same time enabling many other functions  overnight things from Time-Lapse to Single Event recording.
It is also the only Cloud Storage solution optimized for MOBOTIX with LB Mode (Low Bandwidth mode) including single frame option, Basic MP4, and high-resolution MxPEG recording in the cloud.
We also fixed some bugs that affected downloading MxPEG Videos and prepared regional options to limit retention times for different local European legal limits.


MxGuard 2.0 (Click for full Release Notes)
We are introducing MxGuard 2.0 - a brand new way to receive and interact with alerts if cameras recording architecture.
We have re-engineered our original monitoring tool to ensure cameras are recording correctly to identify new scenarios that we found were detected in our first version and to include monitoring of IPTECHVIEW's own Cloud Storage and we share that information with you. This is important so we cover all bases to help you build a more mission-critical solution and you can understand potential bandwidth related issues early on. Our new tool now also shows how much retention time is available for each camera on their SD card or NAS at the current recording rate and can alert when a minimum threshold is reached.

Users can set alerts during time blocks. If they miss their SMS alert and go to IPTECHVIEW MxLINQ afterward, they see a live view and the timeline. We upgraded the page to show the specific event that triggered the ActivitySensor Alert in addition to the live view and we show up to 10 thumbnails of events that happened after that alert to give users more actionable intelligence.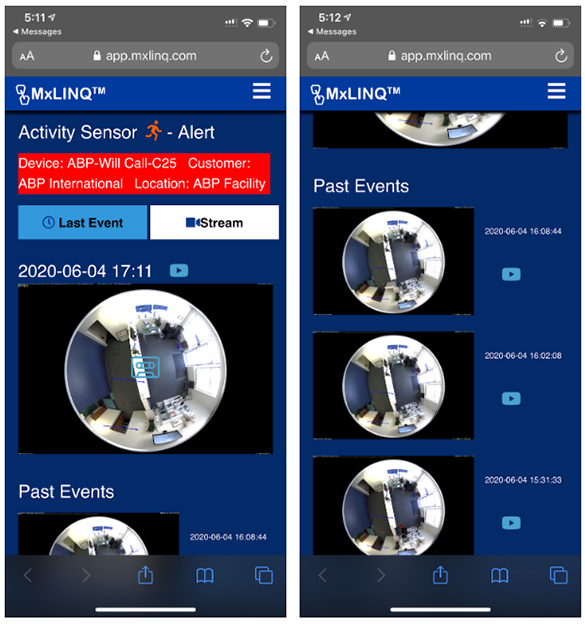 IPTECHVIEW MxLINQ (Cloud VMS) and its player have been upgraded to better represent camera time regardless of local time assigned regional server time. (The next version will allow users to choose between user time and camera time.)

We have made additional improvements for Reseller Partners and Regional Distributors to customize their user experience.
JULY UPDATES & IMPROVEMENTS
NEW FEATURES
We just released Version 1.55. Below you will find a brief update on the improvements and updates in this release:
> We added European infrastructure with new POPs (points of presence) and servers to support EU devices with low latency and to help comply with EU-GDPR
> New Location Camera View report, Generate & Automate email with AD Hoc snapshots of all cameras
> Automated migration of devices between US and EU regions
> International SMS, Alerts and Video Sharing of recordings
> Active Directory Option - Full integration and authentication with Active Directory is now available for Professional Version
BUG FIXES & IMPROVEMENTS
> International phone number format for SMS improved and SMS activated with a fixed long number that users can add to their Favorite/VIP list to get alerts and notifications after hours
> AlarmReady™ Recent Activity page performance improved
> Dashboard Widget performance for Current Issues improved
> MxLINQ Archive page functionality and performance improved
> MLINQ Recent Activity page performance improved
> Some MxLINQ archived media sharing options used to fail; this has been corrected
> MxLINQ Past Events on View Camera page working now as expected
> MxGuard 2.0 will now reliably notify if any cameras stop recording on any media including Cloud Storage, monitor SD card health and failure. Designed to provide mission-critical monitoring to any MOBOTIX project regardless of media or VMS type
> Improved Time Zone Support on Cloud Storage Player
Please notice that in your profile you can change which type of notifications you wish to receive. You can always search for your email address or use Menu: Admin/Manage User to modify Email Preference.
Got any questions? Feel free to contact us at 972-222-1110 or info@iptechview.com.