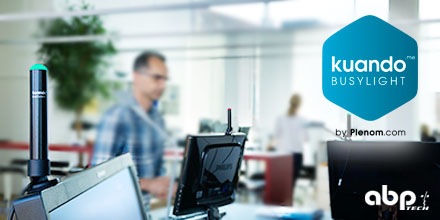 Dallas, TX (May 29, 2019) Danish design and engineering company Plenom has signed ABP Technology as master distributor of the Kuando Busylight - an innovative do not disturb light that visually conveys a worker's status - for the 3CX channels in North America.
The kuando Busylight is a workplace efficiency tool that alerts coworkers to the status of a colleague to avoid unnecessary and productivity-zapping interruptions. The Busylight indicates if a person is available or busy, in a call, or on an important task which requires their full attention. Plenom has recently added 3CX to their growing list of software integrations for business communications. With kuando Busylight, 3CX users can improve their UC solution to get a better work environment and higher efficiency. The Busylight connects to 3CX and automatically gives teams a clear visible cue of their availability.
As a leading 3CX distributor in North America, ABP Technology is an excellent choice to serve as Master Distributor for the kuando Busylight 3CX channel, said Plenom President-Americas Mitch Friend.
"We selected ABP Technology as our Master Distributor for the 3CX channels in North America because of their dedication and focus on 3CX and also for their attention to innovative products," said Friend. "Over the years we have seen ABP Technology act as a true evangelist and catalyst in the market and are really excited to work with their team on growing kuando Busylight sales in this new space for us."
ABP Technology president Robert Messer said he is impressed with the ability of the kuando Busylight to enhance workplace production and performance and most important for it's time savings.
"The kuando Busylight is a product that provides end users an incredible - almost priceless - value," said Messer. "In today's open-office environment when we are on the phone using a headset, coworkers routinely interrupt us because they are unaware that we are talking to someone on the phone. By using a kuando Busylight, we have two people that can be more efficient and productive simply by being aware of the other's status."
Melvin Whirley, ABP Technology Director of Channel for 3CX, said the kuando Busylight 3CX solution offers an abundance of benefits.
"The kuando Busylight is an amazing product and it's so easy to adapt to 3CX and works with most phones that 3CX supports," said Whirley. "The kuando Busylight also helps our channel partners sell more 3CX phone systems because customers understand the value. They add an element of innovation as well as efficiency to any office workspace. Plus, they just look really cool!"
Dallas-based ABP Technology is a leading value-add specialty distributor for IP technology solutions. Plenom is a Denmark-based office intelligence company that has offered kuando solutions on the global market since 2006.
For more information on how to add kuando Busylight to your 3CX solution, contact: Melvin Whirley at 972-831-1600 x108 or email melvin@abptech.com.
###
About ABP Technology  
ABP Technology is a value-add Specialty Distributor for IP Technology Solutions. Our carefully handpicked solutions, expert support, partner empowerment, evolving vision, and dependable delivery provides our Integrator Partners the best tools and gives them a competitive edge to knock their business goals out of the park. We're here to help Resellers and Integrators grow their businesses by making things easier for them and providing solutions that sell, that work well, and that will provide a profit. For more information, visit http://www.abptech.com/
About Plenom
Plenom is a danish design and engineering company manufacturing kuando solutions to help employees working in open plan offices. We have invented the Busylight in 2003, sold globally since 2006, and we are manufacturing acoustic sound panels for noise reduction. Our sister-company, Globe Systems A/S, is an award winning headset specialist and reseller in Northern Europe, established in 1999.