ABP Technology recently announced the introduction of the new SIP based MOBOTIX IP Cameras and the FREE Monitoring software for advanced BUSINESS surveillance solutions.
Prevention of crimes to businesses, break-ins, loss prevention, and legal protection are needed by many of your customers. WIth this new IP Video surveillance solution they can monitor, record, and receive alarms to visual triggers as calls to cell phone with audio and video via their IP-PBX.
MOBOTIX cameras are perfect for a wide range of applications such as security and observation, logistics and transportation, production and manufacturing, sewage plants, tourism and weather observation, private installations as online web cams or even for keeping an eye on vacation property.
Check out ABP MOBOTIX TRAINING this month and DEMO Camera Special.
MOBOTIX IP Cameras empower customers to self monitor and record IP video streams on a NAS. MOBOTIX has a patented compression and can stream only when activities are sensed. The cameras also can trigger on optical, acoustical, temperature, sensors or IR events with true alarm and visual trigger functionality in each intelligent camera. Cameras are weatherproof from -4F to 124F and are rated for years of outdoor usage with no maintenance requirements.
MOBOTIX cameras are MEGAPIXEL and can operate at night down to .1 LUX always providing crisp sharp images that allow you to identify and recognize suspects. With 1.3 million pixels high resolution the MOBOTIX network cameras attain a resolution that is twelve times as high as on analog video systems that are commonly using CIF format.
Plus, you have two-way audio in the camera that adds the ability to monitor, listen, interact even receive phone calls from or make calls to your cameras. Tie in your alarm system to IP video phones or just use as door opener. The sky is the limit!
The MOBOTIX Concept ...... with its integrated Linux system, integrated software and FREEE Monitoring application provides winning advantages compared to analog video technology and conventional webcams. See the incredible list of advantages below.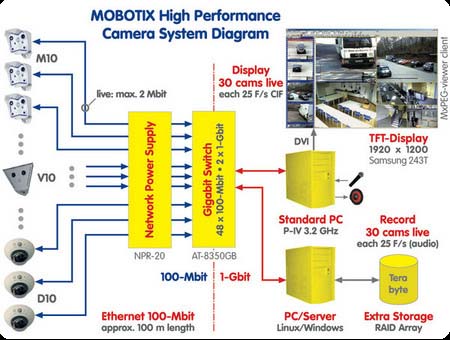 Another advanced feature that sets the MOBOTIX camera apart is its built-in Linux sever processor. Because of this, no special software is needed to access the camera; just browser to connect to the integrated Web server. You can choose whether to receive standard JPEG or streaming MPEG images (MOBOTIX uses its own MxPEG technology to maximize bandwidth) with a choice of the rate at which images are displayed and both their size and quality.
Call your ABP representative or talk to our Pre-sales specialist to see how you can integrate this solution with your IP network or Asterisk installation.
DISCOUNTED Demo Camera and TRAINING this month.

Here some remarkable advantages:
Increased resolution reduces number of cameras needed
With 960 lines, high resolution sensors give a better overview and allow monitoring an entire room with just one 90°camera from the corner

Reduced installation costs irrespective of distance
Standard Ethernet connection enables the use of common network components such as fiber, copper and wireless (WLAN)

Intelligent recording technology reduces storage requirements
Decentralized recording technology in the camera software puts less strain on PCs and reduces the amount of storage PCs (DVRs) by a factor of 10

Event-controlled image rate minimizes storage cost
Event-driven, automatically adjusted recording frame rate based on event or sensor action reduces amount of data and storage costs

No additional power and no heating required
Anti-fogging without heating allows usage of standard PoE technology to power the system via network and saves costs of power cabling

Backup power requirement reduced by 8 times
Low power consumption, 3 Watt, enables year-round (no heating required) PoE with one centralized UPS from installation room via network

Robust and practically maintenance free
Fiberglass-reinforced composite housing with built-in cable protection and no mechanical moving parts (no auto-iris) guarantees longevity

No additional software or license to buy
Control and recording software is integrated in the camera and is at no cost; new functions are available via free software downloads

Unlimited scalability and high return on investment
While in use, more cameras and storage can be added at any time; image format, frame rate and recording parameters can be camera specific

Additional functions and other extras included
Audio support, lens, wall mount and weatherproof housing (-30° to +60°C, -22° to +140°F) included; microphone and speaker available in certain models

A user-friendly Web-based GUI is used to configure and manage the camera. For example, you an set events that will trigger alerts and tell the camera who to call or e-mail when these events occur. Likewise, there's a Web-based GUI to manage the built-in recording facility which can be used to capture both still images and video streams. These can be stored to the internal camera memory or on a remote server. Remarkably, there is no special hardware or software at the server end, just a shared Linux or Windows folder.
Please contact your Sales Representative for more details and to place your order for a MOBOTIX VoIP demo camera.
Come to the MOBOTIX TRAINING this month and get discounted Demo Camera
---