ABP Featured Solution Newsletter : VoIP Paging and PA Systems
IP Paging and IP/PA the new standards for Audio Distribution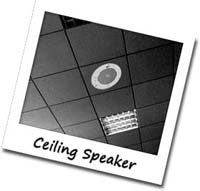 PA/IP (PA over IP) provides unique advantages over analog paging systems
Provide a modern lower cost paging or PA for any phone system.

Proven cost saving over single function wiring.

Interoperates with any standard PBX or keysystem over Analog ports.

Ready for any SIP/Asterisk based IP-PBX solution.

Integrate into emergency systems.

Provides network based redundancy for emergency broadcasts, and evacuation systems.

Practically limitless scalable topology for expansion

Span multiple facilities, multi city / national paging platform without head-end hardware.

System wide capability to add IP phones, IP cameras and 2 way-audio/remote monitoring.

CyberData Ceiling Speakers are perfect for Retailers, Hospitals, Government buildings, School systems with complex inter-building distribution
Emergency Preparedness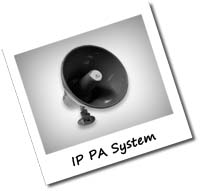 Provides supplemental reach to overhead paging, parking, outside inter-building or even individual desktop notification.

Network based system provides integration path to meet needs and requirements for notifications to individuals with disabilities.

Cost effective means for compliance to Federal Emergency Decision and Notification Protocol OPM/GSA/NIH and other interagency requirements
Open Connectivity & Open Source for more creative solutions

This Open Standards based product will operate with practically any SIP based IP-PBX platform. The Cyber-Data Paging system is one of the first products that ABP has tested and certified on Digiums latest Asterisk Appliance. Professional resellers specialized in Asterisk application development can build practically any paging or PA solution with any Open Source Asterisk platform.


Deploy as individual SIP devices or in multicast mode. Connect and power via Ethernet cable with POE. Use wireless and AV adapter for more remote units and mix-n-match, ceiling speakers, wall speakers, outdoor speakers and desktop units.

Resellers can build a unique CyberData Paging solution that can connect to existing phone system and later be upgraded to a full business IP-PBX solution. More information on Digiums new Asterisk Appliance.


Call ABP for more details on CyberData IP Paging and feel free to discuss your application with one of our pre-sales engineers.

---
ABP Technology is a technology distributor that markets VoIP products through a network of specialized Resellers and Channel Partners. Learn more about the ABP P³ Preferred Professional Partner program designed to jump start resellers into the VoIP space with training and select starter kits. Email or call us for more information on becoming a reseller - (972) 831-1600 x121.
Become an ABP Reseller of VoIP Products
ABP Technology - 1850 Crown Drive, Suite #1112 - Dallas, Texas 75234 - USA
Phone:+1 972 831-1600 - Fax: +1 972 831-1416 - email: sales@abptech.com