Car dealerships everywhere are in need of a solid surveillance solutions that works. One whose images are clear enough to actually decipher and use. One that can capture images, even when it's dark. One that cuts costs but doesn't cut corners.
But what if you could offer them all that and much more? Like a way for the dealership to perform their own "market research" and see what cars are most popular? Or a means to communicate, advertise and inform customers, even if the customer is "just looking" and opts out of talking with a sales rep, or the dealership doesn't have enough salesmen on the floor on a busy day? Or last but not least, what if you could offer them a solution that can actually help prevent theft and vandalism?

The Proof is in the Case Study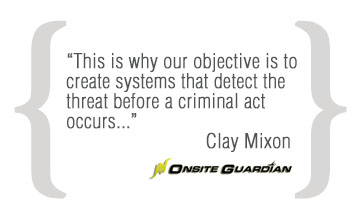 Clay Mixon with Onsite Guardian is no newbie when it comes to stopping thieves that are attempting to take advantage and rob car dealerships. In fact, in his case study featured in MXINSTALLER, he tells a story where one of his MOBOTIX security solutions did exactly that - while the neighboring dealership, with a 'hit-or-miss" security setup, was left to pick up the pieces of a crime they were an easy target for.
The story begins early on a Saturday morning, dimly lit and deserted, at the scene of a car dealership with none other than two thieves. But little do the robbers know that their initial target lot is monitored by a MOBOTIX surveillance system. After being alerted over the PA system that they are trespassing after hours and the police have already been notified, the duo stops dead in their tracks and scampers, attempting to stay in the shadows (unsuccessfully) and eventually disappears from this lot into the next door dealership lot. It wasn't until the first employees arrived at that neighboring dealership that they realized they had been the victims of a successful robbery.
The plot continues, illustrating all the extra costs & overhead that the neighboring dealership is now having to deal with associated with the theft; including but not limited to: technician fees, additional cameras, additional storage, power sources & technology needed to support additional camera, replacing stolen parts/cars, disrupted business... the list goes on.
The good news is, it's easy to avoid the situation of that second car dealership - robbed and defeated. Clay goes on to describe the MOBOTIX solution in detail by listing every product used in the car dealership installation followed by a break down, detailed explanation of the solution, its components/parts, and their purpose in the grand scheme of the solution. So you've basically been given the map to the treasure. The question is, will you use it?

This car dealership installation uses the following MOBOTIX Products:
(8) M24 with various lenses
(4) D14 with various lens combinations
(1) D14 180
(1) ExtIO
If for some reason you still aren't convinced as to why MOBOTIX is the surveillance solution to keep car dealerships secure and crime-free, Clay highlights that the solution was introduced and adopted by Diversified Auto Dealers (a group with over 200 car dealership members across 7 states). If MOBOTIX can cover that kind of ground, imagine what it can do for your own car dealership security projects or prospects.
For the entire article and the in-depth product breakdown of the solution, read more here.
Why take part in a learning curve when there are those who have gone before you who can give you great industry advice?
We interviewed Mykal Sunrise, from Remote Monitoring Technologies and asked him the tough questions of what to consider when qualifying, selling and installing a MOBOTIX Solution to car dealerships. Watch the video below to get industry-specific knowledge and the best ways Mykal has found to overcome unique obstacles. See video below:

What's MOBOTIX Have to Say?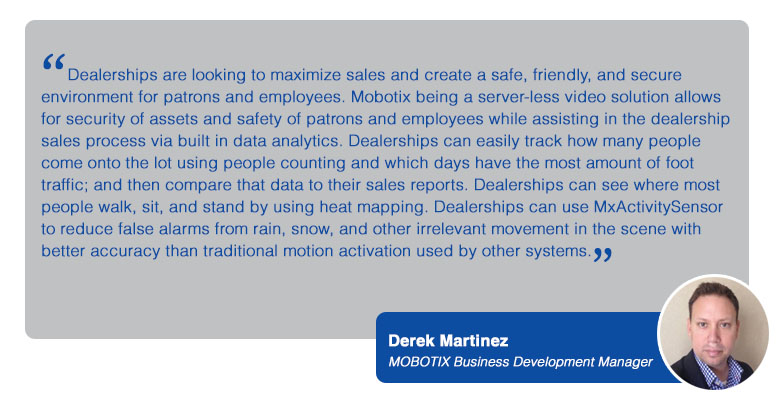 Learn More and Ask your Questions at our Webinar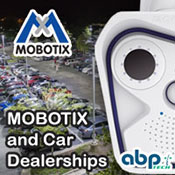 Join Derek Martinez, from MOBOTIX and our very own Jim Molencupp to learn about MOBOTIX in the Car Dealership segment. Learn how with MOBOTIX, we can prevent crime as opposed to simply being reactive after something has already happened. You will also learn about a special promotion aimed at this segment. We're hosting two webinars to try and accommodate as many schedules as possible, because this is information you don't want to miss! Please choose from the following dates and click to register:
We look foward to seeing you!
Let us help you with your next project. Please call us at 972-831-1600, #3 or email sales@abptech.com