M15 and D15 - Now with Pre-Installed Sensor and Lenses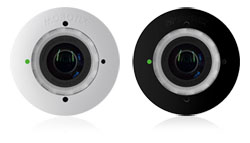 MOBOTIX has just released M15 and D15s with pre-installed sensors and lenses. To celebrate this, help partners jump start sales and enable all our Mobotix Partners to see the incredible advantages of these new sensors for themselves, ABP is offering the new 6MP models at the same price as the 5MP models for a promotion for up to 30 days or while initial supplies last.
The new sensors brings some significant advantages and their list price will have a price increase of $124 per sensor in the future.

The Latest MOBOTIX 6MP Image Sensor Generation, MxLEO and HD Premium Lenses together offer a 10X more light sensitive product and a much sharper lens across all areas of the image. Light sensitivity is one of the biggest factors in determining the quality of a security camera. A highly light-sensitive camera supports short exposure times, thus resulting in reduced motion blurring. Also on color models color will still be recognizable at very low light levels. This makes it easier to evaluate security-relevant footage, making details visible without the need for additional, expensive illumination.
Next Milestone On The Quest For Ever Better Images: Camera-Integrated MxLEO Noise Reduction

The 5-megapixel camera line was the first to feature MxLEO software for image improvement in very low lighting conditions, thus further reducing motion blurring. The new 6MP sensors further improve upon this. The current MOBOTIX models have a hardware-based noise ?lter directly at the image sensor. It reduces image noise and delivers sharper images. Depending on the speci?c requirements, it is possible to select whether the automatic exposure function extends the calculated exposure time, for example, in order to create high-contrast night recordings for web images, or shortens the exposure time in order to display fast movements in crystal clear quality.
A New Benchmark For Security Cameras: MOBOTIX 6MP Moonlight Sensor Technology (3072 x 2048 Pixels)
The new MOBOTIX 6-megapixel image sensors (available as a day and night version for color and black/white images) feature even better light sensitivity, making these the best MOBOTIX cameras and IP systems ever. In addition to standard 4:3 image formats with maximized 5MP resolution, this new technology now also supports images with up to 6 megapixels in the special 3:2 format (3072 x 2048 pixels), both as a day and night sensor module. In dual image display mode, a MOBOTIX 6MP dual camera can generate images up to 12 megapixels in size.
Thanks to the fact that a 6-megapixel night sensor module MOBOTIX camera is now able to deliver high-quality images on full moon nights (illumination of approx. 0.25 lux) without any additional lighting, this new moonlight technology is suitable for applications with illumination levels below 5 lux (in comparison, street lighting seldom drops below 10 lux). For scenarios with normal lighting conditions, such as illuminated indoor and outdoor areas, the available 5-megapixel camera models are sufficient.
The greatly increased light sensitivity of the new sensor technology is further enhanced by the HD Premium lenses also built into the 5-megapixel cameras. These new HD Premium lenses with an f/1.8 aperture are offered in six different focal lengths. This technology, in connection with the new 6-megapixel sensor modules (1/1.8" CMOS), delivers horizontal image angles between 15° and 105° for an image format of 4:3.
Let us help you with your next project. Please call us at 972-831-1600, #3.