As we ring in 2016, we bring you an overview of all the cool new DrayTek developments we got in the last year.
Keeping their promise to bring you the most feature-rich routers and networking equipment in the market, DrayTek introduced several new models to their product portfolio in 2015. Not to mention the many new features available through free firmware upgrades on their existing popular models.
DrayTek's major themes in 2015 were strategically focused on: Wireless, Redundancy and Security. Let's look at some of the biggest highlights of the year.
Advanced 802.11ac Routers with Built-In Access Point Management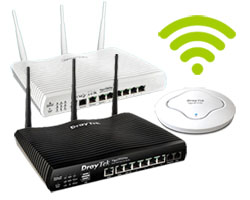 This past year, DrayTek took their wireless offerings to the next level with the release of the ceiling-mounted access-point AP 910C in September, as well as the new wireless 802.11ac variants of dual-WAN 2925ac and VDSL 2860ac routers.
If you have the 2925 or 2860 series routers and you haven't tried out the built-in centralized wireless controller feature yet, you are really missing out! APM on those routers not only makes wireless access point installations plug-and-play, it also allows you to load-balance wireless traffic between multiple access points based on signal strength, bandwidth or number of clients. With easy VLAN setup and the ability to isolate guest networks, define bandwidth limits and time quotas for each SSID, it's the perfect wireless solution for SMBs.
Improved Network Redundancy through High Availability and Wireless WAN
Two new features High Availability and Wireless WAN added to our popular dual-WAN 2925 series have us really excited.
High Availability
(HA) was a feature previously available only on the higherend 2960 and 3900 enterprise router models. This year it was introduced to the 2925 series, making it one of the most feature-rich SMB routers in the market at an incredible price point. The 2925 series already offers network redundancy with two Ethernet ports and two USB ports for 3G/4G LTE dongles. High Availability takes it a step further by providing hardware redundancy. This option eliminates the last single point-of-failure by ensuring high network availability, and should be of particular value to SoHo or multi-site installations as well as in high-end homes where the owner wants high Internet availability.
For sensitive environments where uptime is a priority, Draytek HA will guard against hardware failures by having two 2925 routers work together in a hot-standby mode. With this feature the two routers will share a virtual IP address and keep syncing configuration in real-time in a Master-Slave mode ensuring a smooth transition in case of failure.

Watch a demo on 2925's new failover capabilities:


Wireless WAN Feature Allows You to Connect your Router to a WiFi Hotspot for Backup.
This feature, which was added to the popular 2925 dual-WAN series as well as 2860 VDSL router series, lets the router connect to any existing wireless network and repeat the signal to its LAN clients. Why is this feature so useful? Because it gives the router the ability to connect to a wireless hotspot on your phone if you have one! You must have experienced situations where your customer's ISP has not installed their Internet connections yet, but they need to get their network working as soon as possible. Sometimes network installs are done in remote locations where service is not available yet.
If your customers have LTE coverage and a hotspot feature on their phones, you can get their networks running in no time. WAN Budget feature in the router ensures there are no overage charges and customers receive timely email notifications if they are nearing their data limits. Also the wireless WAN can later serve as their backup in case of primary WAN failures.
Brand new features for improved Network Security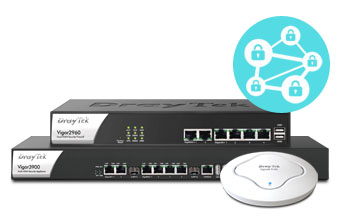 DrayTek has always made the security of your networks their priority, but you don't have to take our word for it. Network World recently named DrayTek one of the best VPN routers for small business!
The new Mobile device management feature on the latest firmware of wireless access point AP 900, as well as the 2960 and 3900 enterprise routers lets administrators choose if they want to block users' mobile devices from accessing the wireless network. This protects sensitive data and reduces exposure of your company's networks to any malicious activity.
The Application Enforcement feature available on most DrayTek routers also received an upgrade so that it can now receive automatic signature updates for the latest versions of supported IM / P2P and other applications. This feature can be enabled by creating a free MyVigor account and registering all your DrayTek routers to it. Read more here.
Another advantage of registering your routers is the free one-month trial WCF license that lets you filter website categories e.g. block or pass all "Social Networking" websites instead of individual URLs. See Video for WCF Trial License Activation. This feature powered by CYREN (formerly Commtouch) is the only licensed feature of the router and is available at a fraction of the cost of what our competitors charge for the same service. Which is why, many of our customers are switching to DrayTek, especially for applications where content filtering is critical e.g. school networks.
With this we conclude a quick overview of our favorite new features and products from 2015. We are looking forward to some exciting new releases in 2016, such as the 2925 LTE router variant, Switch Management and many more, so stay tuned.
Wishing you all a very happy and prosperous 2016 from the DrayTek USA team!
Like What You Hear? Learn More and Get Certified
Intrigued by any of the information in this newsletter? Get your hands dirty and join us for our FREE 1-day DrayTek Overview and Training. Get hands-on experience at this introductory training and see demos showing exactly how different DrayTek is from other routers. Become an expert yourself and begin using DrayTek to start setting up your own clientele in their best position to succeed! See our past trainings here.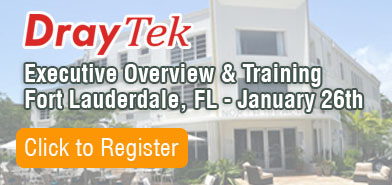 What: DrayTek Executive Overview & Training
When: January 26, 2016 @ 9:30 AM - 4:00 PM
(lunch included!)
Where: North Beach Village Design
600 Breakers Ave
Fort Lauderdale, FL 33304
954-565-5790

***SPECIAL PROMO: 50% OFF MSRP for training attendees!***
Click for more details and registration here.

Check out www.DrayTekUSA.com for more detailed info on products, webinars, trainings and other events. Also, please contact us at 972-831-1600, option 3 or sales@abptech.com for any questions.
P.S. Setting up an office network is easy and fast with DrayTek's Centralized Management System. See our new video.