DECT your Halls Early this Year with DECT 6.0 Telephony
In this day and age cords and wires are slowly approaching a modern dinosaur, becoming more and more obsolete. Mobility is essential to streamline efficiency in our hustle and bustle lives, both at home and in the office. Digital Enhanced Cordless Telecommunications, commonly known as DECT, helps make such mobility possible - especially when it comes to telephony. Here at ABP, we carry multiple vendors that offer DECT solutions no matter what the situation may be; including snom, Grandstream and Panasonic. Whether you're looking to outfit an office for an insurance agent, multi-floor building or warehouse - there's a better fit for each. Find out which solution may be the best for you and your clientele.


Snom has always had a good DECT wireless phone, but recently they have launched a truly impressive and comprehensive wireless solution lineup. Snom provides DECT wireless solutions for everything from single office, small business establishments to large campus, enterprise environments; they even include a great option for industrial and warehouse areas. The snom DECT units are easy to install and provision, and will work with most IP PBX systems, all without additional license fees for spectrum, codecs, audio channels or firmware. The following is a quick breakdown of the new DECT 6.0 lines from snom:
Snom M700 - Multi-Cell DECT Base Station: Ideal for companies that require wireless coverage throughout a large building or several floors. This is because snom's multi-cell DECT solution links multiple M700 base stations together to create a seamless network, allowing free movement between stations without interruption. The base station is set up for an easy, integrated installation for the M25, M65 and M85 handsets and supports M5 repeaters to increase reception range and bridge gaps between stations.
Snom M325- Single Base Station DECT Solution: Ideal for a small office environment. This single cell DECT package is comprised of the M300 base station and one M25 handset. However, the base station can register up to 20 handsets and process five concurrent calls. The base station's already broad coverage can also be extended by adding up to three snom M5 repeaters for a bigger, seamless network.
Snom M25- DECT Handset: A hard-working, high quality device with an excellent price-performance ratio.
Snom M65- DECT Handset with wideband HD audio quality: Ideal for fast-paced, professional telephony environments. The M65 handset combines versatile business communication functionality with the intuitive features of mobile carriers.
Snom M85- Ruggedized DECT Handset: Ideal for hard-hat or industrial areas and professional indoor and outdoor use.
Snom M5- DECT Repeater: Ideal for extending ranges in larger areas, businesses, and buildings or across floors. For use with single or multi-cell DECT solutions.


Grandstream is another vendor ABP supplies that carries great DECT 6.0 options. If you're looking for a wireless solution in a small to medium businesses with a great price point, Grandstream could be that perfect fit. The following is Grandstream's DECT 6.0 telephony options:
Grandstream DP715/DP710- VoIP DECT Phone: - Ideal for small businesses and residential users. The DP715 is a complete set consisting of a VoIP DECT handset and base station. Grandstream's DECT base station registers up to five DECT handsets and talks up to four handsets concurrently. The DP710 works great to extend the network and consists of an additional handset and charger unit only. Grandstream's DECT phone system maximizes the power of IP voice application and mobility for a much smaller cost than others in the field.


Yealink is the is the industry's second largest global IP phone manufacturer and the leading global provider for unified communication terminal solutions. If you're looking for clear and productive communication for a business that may be geographically widespread, then Yealink may be your best bet. And they just recently updated their IP Phone Portfolio by partnering with Metaswitch networks platform, satisfying diverse customer needs and and usage scenarios. This update includes their wireless DECT model, which is described below:
Yealink W52P/W52H- Business HD IP DECT Phone: Ideal for small businesses and SoHo. The W52P is a complete set of a DECT Cordless Handset and Base Unit. It can register up to five DECT cordless handsets (like the W52H), handles up to four simultaneous external calls and five VoIP accounts. This DECT option is more accessible than ever with the new Metaswitch update.


Panasonic, with their widespread name, consistently offers brand awareness, brand continuity, familiarity and quality products. Panasonic has also amped up their DECT wireless IP systems, creating a mobile telephony line up with variety for any wireless need. The following breaks down Panasonic's SIP wireless options:
Panasonic KX-TGP500- Base Unit and Cordless SIP Handset: Ideal for small business looking for an easier, more convenient way to expand their SIP-based office phone system. It can support three simultaneous network conversations, expand up to six additional (TPA50) handsets, and support up to eight SIP registrations and different phone numbers.
Panasonic KX-TGP550- Base Unit and Cordless SIP Handset: Ideal for small businesses. Panasonic is the #1 company for a unique DECT desk phone that can be deployed wirelessly. There will be no need to connect to a LAN cable unlike other desk phones. This desk phone expands to six additional TPA50 handsets and allows up to eight phone numbers.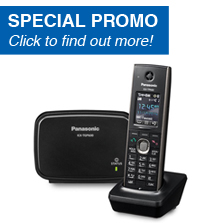 Panasonic KX-TGP600- Expandable SIP Cordless Phone System: Ideal for small and medium businesses. This is Panasonic's newest product line and includes the KX-TPA60 handset. The system can expand up to eight cordless and desktop DECT phones and support eight simultaneous calls. It's compatible with Panasonic's KX-TPA60, KX-TPA65, KX-UDT121 and KX-UDT131 (Ruggedized), making it easily adaptable for a variety of preferences.
Panasonic KX-A406- Wireless Repeater: Ideal for expanding indoor communication for larger businesses. Can expand the standard 164 feet to approximately 656 feet. For use with the KX-TGP600 system.
Contacting your ABP sales rep at 972-831-1600 or sales@abptech.com and discuss mobility solutions and special NFR prices.