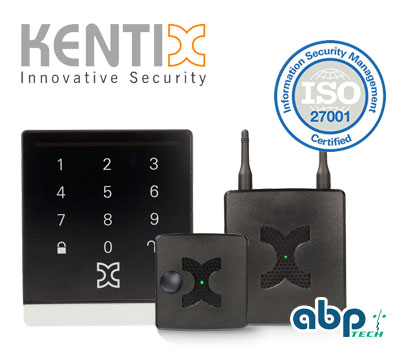 Dallas, TX (Sept. 11, 2018) ABP Technology, a leading value-add specialty distributor for IP technology solutions, is now distributing end-to-end environmental monitoring and access control solutions from Kentix, the manufacturer of innovative smart building security products.
Kentix products available from ABP Tech include the Kentix MultiSensor® and Kentix Access Control solutions. ABP Tech serves as the Master Distributor of Kentix products across the Americas.
Half of all IT outages have a physical cause like fire or water damage and environmental damage downtimes are much longer – and more expensive – to fix, said ABP Tech President, Robert Messer.
"Just like a firewall protects data, the Kentix MultiSensor protects a network's physical infrastructure in a compact, and very powerful, device," he said.
The Kentix MultiSensor is an end-to-end environmental monitoring solution that protects critical assets, valuable storage areas, technical systems, and IT and communication equipment by detecting 37 types of physical threats that can lead to catastrophic events. It can replace multiple individual solutions like temperature and humidity control, alarm, intrusion or presence detection, smoke, gases and/or early fire detection – saving about two-thirds of the typical cost – while channeling these alarms in a more targeted way. The Kentix MultiSensor is completely IP-based and is scalable up to 500 units.
Impressively, the Kentix MultiSensor all-in-one environmental monitoring solution has received renowned ISO27001 certification. ISO27001 is the European gold standard in protection requirements for Information Security Management Systems (ISMS).
"Moving toward stringent standards like ISO27001 – even though they aren't yet a requirement in the United States – can help security providers enact the end-to-end protection that is so critical to comprehensive security operations," said Messer.
Kentix Access Control solutions including the Kentix DoorLock® are as equally as impressive as the MultiSensor, said Messer.
"Kentix offers less expensive access control than competing systems, requires less equipment and takes less installation time – with no software fees and no servers," he said.
Kentix Access Control includes PoE to the dual-door controller smart edge-device and door card-reader/keypad units running an embedded, license-free, zero-cost software solution with Active Directory that can scale up to hundreds of locks.
The minimalistic design of Kentix's Access Control solution makes installation fast and simple and serves an aesthetic purpose; it's a slick, small cube that is made to operate efficiently. It's also designed to secure the physical IP network since the PoE connection stays inside and does not go to the door reader. This eliminates the threat of vandals or attempts to infiltrate a network via tapping into an RJ45.
Kentix's MultiSensor and Access Control products can be used separately or together since the Kentix Access Control system interfaces directly into the Kentix MultiSensor environmental monitoring system. All doors controlled by Kentix can also be linked to nearby Mobotix or Axis IP video surveillance cameras and programmed to record video of all access control events for easy auditing and referencing.
"We're excited to be able to bring environmental monitoring and access control products and support to system integrators and dealers seeking innovative and comprehensive security solutions from quality manufacturers like Kentix," said Messer.
For more information on the Kentix line of security solutions, contact Christian Findt at christian@abptech.com, (972) 831-1600 or by visiting ABP Tech Headquarters, 13988 Diplomat Dr. #180, Dallas, TX 75234.
About Kentix
Kentix is a manufacturer of professional Smart Building Security products for the physical security of mission-critical IT infrastructures. Our integrated security solutions include environmental monitoring, access control, power monitoring and IP video surveillance, completely remote controllable via Kentix360 Cloud and everything from a single source. In comparison with several single systems this saves a great deal of cost and effort. The use of wireless mesh networks and modern web technology enables fast and easy system integration. We put great emphasis on the easy usability of all our products which are exclusively manufactured in Germany according to highest quality standards. For more information, visit www.kentix.com.
About ABP Technology  
ABP Technology is a value-add Specialty Distributor for IP Technology Solutions. Our carefully handpicked solutions, expert support, partner empowerment, evolving vision and dependable delivery provides our Technology Partners the best tools to give them a competitive edge and knock their business goals out of the park. We're here to help businesses grow by making things easy for them to find the right products, solutions, technology and training information. We believe that technology should enable us to work smarter, not unnecessarily harder. For more information, visit www.abptech.com.