Make an Easy Transition from Basic to Advanced IP Surveillance
Which IP cameras to sell or how to move from analog to IP are difficult decisions. We selected a manufacturer that gives resellers a full range of IP Cameras, a deep feature set and a consistent user interface and provides resellers an assured and good profit margin.
Let me introduce you to Brickcom. Brickcom Corporation is one of Taiwan's best known IP Cameras manufacturers. Brickcom's design is innovative yet mature. Brickcom products are professional grade, solid and ready for outdoor usage in the most challenging environments. Due to the company's heritage, the IP networking side of the product is state of the art and also has very strong support for Wireless both in WiFi and 3G/4G. Brickcom uses top of the line sensors and all necessary hardware elements for installation. Let's explore why Brickcom would be an excellent choice for any current surveillance company:
Brickcom can be your single brand to address almost any type of IP camera need for any installation type. Brickcom's extensive line of indoor and outdoor cameras include dome and mini dome, box, bullets, cube, mini box, hemispheric and PTZ form factors. Additionally, most all of these different form factors come in multiple resolutions from 1 & 1.3MP, 2MP, 3MP, and 5MP. Brickcom offers models with IR that provide day/night capabilities. Brickcom even has Wi-Fi and 3G units to handle installations where wires connectivity is not an option.


As stated above, Brickcom has the depth and breadth of form factors and resolution, but don't let that scare you. All of the Brickcom cameras have a common interface. This shortens your learning curve and allows for an easier move into IP Surveillance.


Brickcom offers a free software based NVR that supports up to 64 cameras with each instance. This NVR is full featured and very robust while at the same time easy to learn and operate.


If your installation is more complex with multiple camera manufacturers or is an addition to an existing deployment, you will find that Brickcom is already integrated with over 50 of the most used third party NVR systems in the market. Brickcom has done extensive testing and is supported widely in the IP Surveillance space.

We hope you chose Brickcom as a line to move your business forward in the IP Surveillance market. ABP Tech will be there to assist you in camera selection and placement on any projects you will have and will provide US based tech-support if needed.
Integration with Many NVR Platforms
Brickcom cameras are certified and natively integrated into the GVD and Milestone platforms among many others. This assures the full capabilities of the cameras are available when integrating Brickcom with these NVRs. Here are some additional reasons why Brickcom should be a camera brand of choice in your next surveillance solution.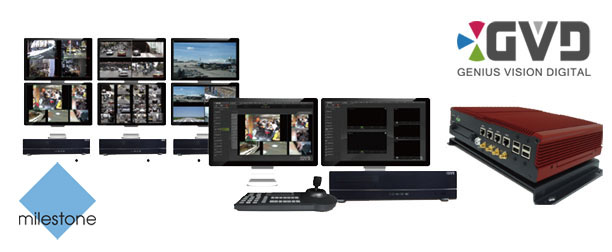 Brickcom unit cost is in the middle tier of the surveillance space relative to other brands, while the quality of the product is in the top 10 percentile. You get a lot of camera for a fair price with an excellent warranty from a company that stands behind their products. Features like Smart Focus lenses, embedded IR, 2 way audio, and many others are available across the product line.
Brickcom cameras were born from a parent company with 20 years of research and development in the IP Networking product and wireless broadband product business and are market leaders in network connectivity options. In addition to traditional Cat5/6 cable connectivity, some Brickcom cameras have embedded WiFi connection options including 2.4Ghz band but also the 5Ghz and 3G/4G models valuable in projects where there are remote cameras too expensive or time consuming to cable.
Finally, not all surveillance projects are the same and having a robust line of cameras with different form factors can be important. Form factors including Mini Box, Domes, Mini Domes, Vandal Domes, PTZ units, and others are all available from Brickcom. Brickcom offers three or more resolutions on each of the different models; there are 1.3, 2, 3, and 5MP options on most units so you can customize and adjust to the financial restraints of a given project.
Brickcom has teamed with ABP for US based support, local marketing materials and most important a solid pricing policy that includes Minimum Advertised pricing for any online sales and special project protection.
All of this points to Brickcom being a feature rich camera with excellent value, the ability to offer rock solid and satisfying solutions to your customers while making good commercial margin and exceeding customer expectations. Stop by and see us at ISC West at Booth 32107 along with GVD and MOBOTIX! Click on the banner below to get your FREE pass!