With Sangoma, businesses of all sizes can find affordable UC systems with advanced functionality. They are a leader in enterprise grade, value-based communications, delivering industry-leading quality at price points that maximize customers' return on investment.
Sangoma is also the primary developer and sponsor of the Asterisk project, the world's most widely used open source communications software, and FreePBX, the world's most widely used open source PBX software.
Founded in 1984 and headquartered in Toronto, Canada, Sangoma believes all organizations should have access to powerful, affordable, innovative communications solutions from a reliable partner, and that deploying these solutions will help businesses be able to grow, connect and collaborate with its customers in exciting new ways.
Today, Sangoma remains an industry leader in delivering Communications as a Service (CaaS) solutions for businesses of all sizes. A fully global company, with customers in over 150 countries and employees in over 15 countries, Sangoma's global footprint extends to over 2 million customers using our products and services in leading PBX, IVR, contact center, carrier networks, and data communication applications.
Sangoma offers complete, affordable Unified Communications (UC) and Contact Center (CC) solutions for businesses of all sizes. Customers purchase Sangoma because of the superior value our products offer.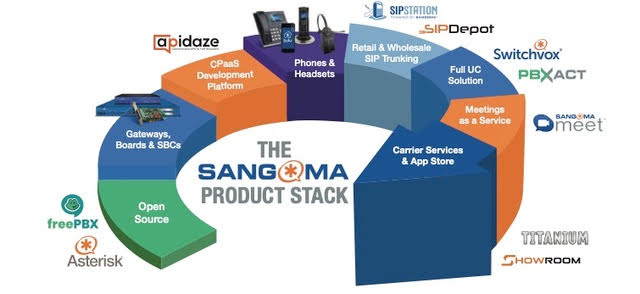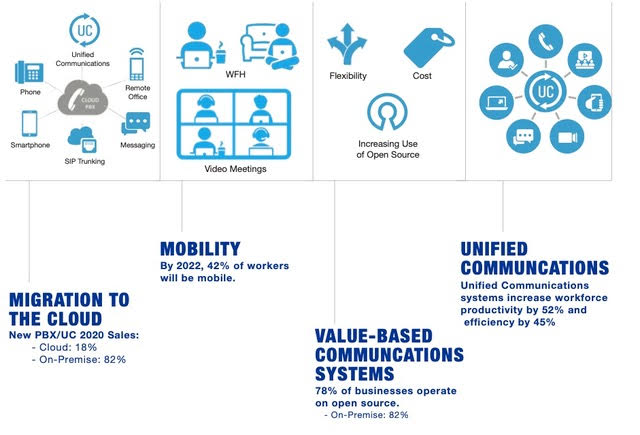 Business Phone Systems
Sangoma offers phone systems with Unified Communications features at an affordable price. UC solutions are available for on-site, cloud, or virtualized deployments. 
 >> On-Site Switchvox Phone System
 >> PBXact - Customizable IP PBX
 >> Phones and devices 
Cloud Services
Sangoma delivers hosted phone services for contact centers, small businesses, and other organizations looking to the Cloud to manage their business communcations.
 >> Hosted UC Phone Service
 >> SIP Trunking
 >> Fax over IP
Network Connectivity
Sangoma offers many different options and solutions to help you navigate connecting to, and transporting, voice and data among various communication networks.
 >> Session Border Controllers
 >> VoIP Gateways
 >> Telephony Cards
 >> Media Transcoding