The OmniSession™ - more than a Softphone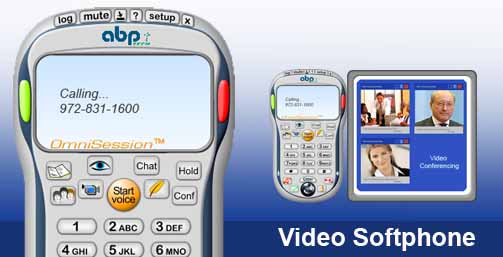 ---
The OmniSession™ - more than a Softphone

OmniSession™ is an innovative, user friendly and state-of-the-art software telephone for your PC. OmniSession™ enables Triple Play (Voice, Video and Collaboration) as an all-in-one solution package:
Voice: standard voice call including conferencing

Video: Video-calls including video conferencing for up to five (5) participants

Collaboration:
Interactive shared Whiteboarding allowing drawing space and text space between the participants
Desktop screen sharing to show pictures, applications and documents to each other
This integration of voice, video and collaboration into one intuitive, easy-to-use platform make it the softphone of choice for today's enterprise and carrier environments alike.

OmniSession™ offers:
• Security against listening-in: via optional end-to-end encryption
• Compatibility with the future-proof Internet Protocol IPv6
• Universal Instant Messaging Platform for short messages between OmniSession™ and MSN Messenger, AOL, Yahoo! and ICQ
• Click-2-Dial Plug-In's: OmniSession provides you with plug-ins for various e-mail-programs, e.g., Microsoft Office Outlook, Mozilla Thunderbird, or Mozilla Seamonkey that allow for an export (click-2-dial) of address book entries into the OmniSession Dial Display.
• Integration for MS Office Outlook Express® allows to call OmniSession™ from this program with an MS Outlook Express address.
New features are continuously added to OmniSession™ .
Contact ABP to learn more about the OmniSession™ softphone and interoperability with softswitches and IPBXs.
Technical Specifications
Product Applications Scenarios
Downloads
AUDIO CALLS
Speed Dial
Call by Name
Caller ID
Call Waiting
Call Transfer
Call History
Call Hold
Call Transfer
Audio Conference (up to 5 participants)
Audio Tuning Wizard
• Video Calls
o Scalable Picture Size
o Video Quality (compression) Setting
o Key-frame Transmission rate
o Video Synchronization
o Video Tuning Wizard
o Camera-Desktop-Switching
• Video Conference (4+1 parties)
• Video Tuning Wizard
COLLABORATION/PRESENCE/IM
• Buddy List with Presence Indicator
• Interoperability with the UIMP Gaim
• Whiteboarding
• Screen Collaboration
• Interactive Viewing of documents and partner screens
• Interactive use of programs
• End-to-End application-ready
PARAMETER SETTINGS
• Microphone, speaker and ringing selection
• Codec Setting
• Sound System Setting
• Customized GUI
• STUN/NAT traversal
• Secure RTP (AES-128 algorithm)
• Selectable TCP/UDP Socket
MISCELLANEOUS

PARAMETER SETTINGS
• Microphone, speaker and ringing selection
• Codec Setting
• Sound System Setting
• Customized GUI
• STUN/NAT traversal
• Secure RTP (AES-128 algorithm)
• Selectable TCP/UDP Socket
MISCELLANEOUS
• Internet Protocol version6 (IPv6)
• Phonebook
• Multi-Proxy-Registration [up to 3]
• Click-2-Dial for MS Outlook
• Click-2-Dial for Mozilla Thunderbird
OmniSession™ PC download/ configuration requirements:
o WINDOWS 2000, XP or VISTA
o Headset w. Microphone
o USB Web Camera
o Configuration through graphical display

Protocols & Standards: IP, TCP, UDP, SIP, SRTP
• Compatible with Yealink USB phone
• RFC No. 2327 SDP: Session Description Protocol
• RFC No. 2833 RTP Payload for DTMF Digits, Telephony Tones and
Telephony Signals
• RFC No. 3261 SIP: Session Initiation Protocol
• RFC No. 3265 SIP: Specific Event Notification
• RFC No. 3428 Session Initiation Protocol (SIP) Extension for Instant
Messaging
• RFC No. 3550 RTP: A Transport Protocol for Real-Time Applications
• RFC No. 3605 Real Time Control Protocol (RTCP) attribute in Session
Description Protocol (SDP)
• RFC No. 3711 The Secure Real-Time Transport Protocol
• RFC No. 3842 Message Summary and Message Waiting Indication Event
• RFC No. 3856 A Presence Event Package for the Session Initiation
Protocol (SIP)
Voice Encoding: G.711u, G.711a, GSM, iLBC, Speex. On Request: G.723, G.729. Coming Soon: G.722, G.726, G.728
Video codecs : H.261, H.263, H.263+
Mobility:
• OmniSession™ on a USB Stick
• Take it with you wherever you are
• Connect to Desktop, Laptop/Notebook, or PDA
• Connect to Office via LAN/WAN/VPN/Internet
Educational Institutions:
• Distance learning from anywhere
• Remote teacher/student consultation
• Remote research via info services and conferences
Hospitality
• Staff connectivity throughout hotel
• Guest access to info services, billing etc.
• Ubiquitous guest access
• Cost-effective (video) phone service for guests
Publishing
• Editor Sessions
• Page Layout determination
• Image brush-ups
High-Tech Companies:
• Technical Document Sharing / Review
• Code Walk-Through & Review
• Test List Management/ Test Case Review
• Quality Auditing
Health Professionals
• Medical Image Remote Consultations (X-Ray, EKG, MTA…)
• Patient's Chart Discussions
• Patient File Sharing
OmniSession User Manual 1.97 MB