The C1 WiFi CPE is now available!
The new Altai C1 is now available for distribution and adds significantly to the already robust and flexible network architecture of Altai by enhancing WiFi coverage to the end-user and increasing your deployment options.

The Altai C1 can be deployed as CPE, an AP or a Gateway. Deployed in CPE mode, the C1 can function as a WiFi bridge / repeater and increases the radio link budget by 16 dB and overall data throughput by 2-3 times. It can also be configured as a Stand-alone AP or LAN gateway. This highly portable device can establish a Hotspot in a matter of minutes and will also have an option to provide internal captive portal capability.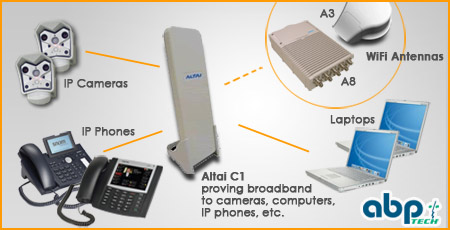 In CPE mode the selectable channel feature allows you to configure for the best signal performance and will automatically search and select an alternate AP signal if there is a degradation of the primary signal for network redundancy. The fast seamless handoff between AP base stations also allows you to use it for nomadic applications. The C1 is easily managed and configured via GUI and also is integrated with the Altai Wireless NMS.
Moreover, the C1 is IP 55 certified with POE power giving you the flexibility to mount the device outdoors or indoors which further enhances your network deployment options.
The addition of the C1 evidences Altai's continued commitment to provide a complete product line to enable you to deploy the lowest cost per subscriber / highest quality WiFi solution possible.
• Extend coverage of your A8 (A3) to 3000 meters in near OS environment
• Use C1 to extend and provide service to multiple users in an apartment complex
• Provide video surveillance to multiple cameras without the cost and limitations of coaxial cable
• Assure high speed wireless connectivity via your LAN switch to multiple VoIP/Data devices
• Provide high quality multiple location Hotspot connectivity by using back-to-back C1s in CPE repeater/bridge and AP
mode.
Call ABP pre-sales support at (972) 831-1600 for free consultative information about which Altai product we would recommend for your project or email sales@abptech.com