2N GSM/UTMS VoIP Gateways
Mobility is one of the Industry's hottest buzzwords nowadays but what does that really mean? Many people already have their homes connected to the office yet still most everyone is working from their cell phone when away from their desk. A VoIP to GSM Gateway that can support Voice and Data is one of the most useful tools an IP VAR can utilize, you just don't know it yet. (Check out diagrams in links below.)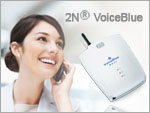 Cut customer costs by reducing fees for cell phone plans with employees.
Each time a call goes to or from the office routed through a GSM Gateway, the user does not pay for those minutes. If the PBX supports mobility functions, like Switchvox for example, you can even transfer or forward calls to the office
via your cell phone and a 2N VoiceBlue Next product.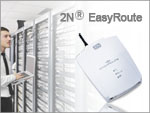 Have a reliable Back-up Network Connection should your customers lose service from their current provider. Utilize the 2N EasyRoute as your WiFi
access point under normal conditions and should the main Internet provider service go out the 2N will take over with UMTS data over 3G. This way your customers will still be able to have use of their networked computers and
credit card machines to conduct business.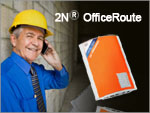 Offer a Complete Mobile Office with a GSM Gateway with PBX functionality for
up to 30 users with the 2N OfficeRoute. It allows you to call via VoIP/GSM/UMTS and supports analog faxes. Thanks to the high-speed Internet connection by means of the UMTS network, the device can also be used as a router. Use the OfficeRoute for SMB offices with mobility features or for mobile applications
like construction sites that may change venue periodically. You get all of the functionality of an IP-PBX and GSM/UMTS gateway in a single appliance.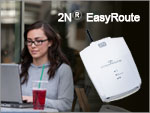 In Pre-Paid WiFi Hotspot applications the 2N EasyRoute comes pre-loaded with features with the ability for a retail store or coffee shop to provide network access for a small cost. 30 users will be able to log onto the 2N's AP for browser connectivity while they shop/dine. The 2N can SMS text message the user the unique pin code for network access and their fee can be included on their bill.
Call your reseller or ABP at 972-831-1600 or email sales@abptech.com for more information. Or better yet, come to ITEXPO to see 2N Telecommunications at our booth #413. Download your FREE VIP Pass to attend the show.