The Kentix SmartXcan provides the most reliable and simple solution for self-checking or combining temperature-checking with any access control system. We think Kentix today is the best solution designed for a quick, safe and reliable scan for elevated body temperature.
Kentix SmartXcan reinvents elevated temperature / fever screening. With over 1,000 measuring points, the Kentix SmartXcan body temperature sensor provides contactless measurements via the eyes and forehead. The sensor uses thermal analysis to produce high precision measurements.  Based on the sensor readings, the Kentix SmartXcan can be configured to admit/refuse entry.  With a simple, self explanatory display, it can help keep busy places moving while ensuring visitor safety.
For flexibility the Kentix SmartXcan body temperature sensor is available as a standalone product or with an integrated RFID reader (coming soon). The body temperature sensor is easy to setup, can be managed remotely and report  results over the newtork.  Installation is with a standard PoE (Power over Ethernet) switch. This sensor is provided with the required mounting bracket and hardware enabling you to be up and running in on time a option stand is alo available and will make your Kentix deployment a durable and valuable tool to ensure your teams health and productivity for many years.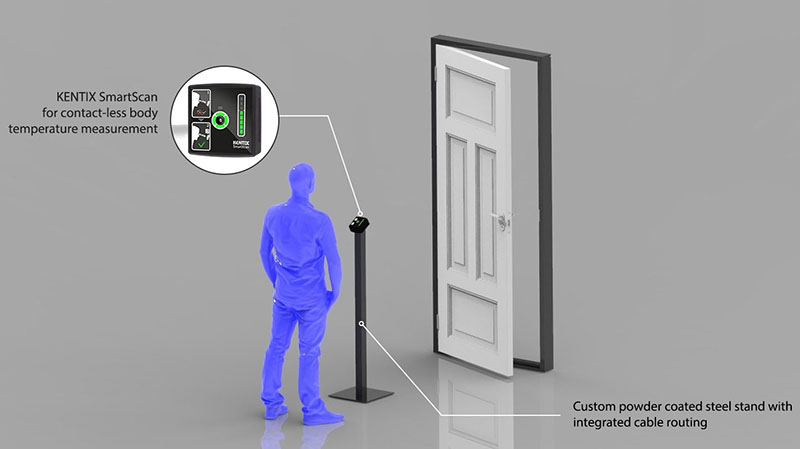 Why Kentix SmartXCan?

Contactless body temperature measurements
DSGVO-compliant operation possible, through self measurement
High precision measuremnet, over 1,000 measuring points
Manipulation protection through intel. Thermal image analysis

Self-explanatory user guidance throught intelligent sensor technology
Simple and flexible mounting
Live control via web browser for doormen
Automatic control of doors or turnstiles

Fast measurement in less than 1 second
High throughput, up to 700 individuals/hour
Early detection of regionally emerging fever hotspots
Plug & Play installation through PoE connection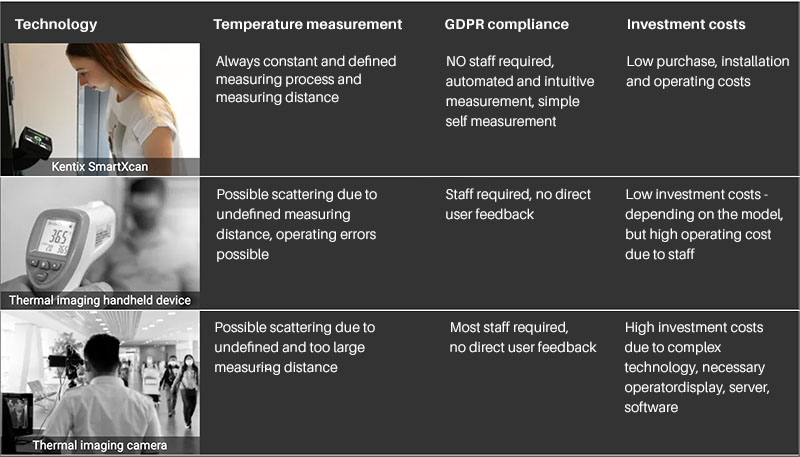 What's Next? 
1.

Become an ABP Partner - Sign up
 

2.

Get the Kentix SmartXcan StartUp Bundle. This will serve as your demo kit that you can use for customer demonstrations. Order here    
 
3. Get training for SmartXcan.

Check training dates

 
3. Get Kentix certified for an additional 5% discount on all Kentix products (OPTIONAL). Getting your certification will also place you into the exclusive group of Certified Kentix Partners and future incentives. You'll always be the first to know what Kentix has in store for your customers and what's coming up very soon.  

Check training dates
      Get the REQUIRED Starter Kit to get certified. Order here
      PLEASE NOTE: Online certification is limited to only 6 attendees per webinar. Click to claim your spot now
Interested in getting started or want more information about Kentix SmartXcan or other Kentix products? Please fill out the form above.