MOBOTIX changes what the surveillance industry has come to accept when it comes to monitoring areas for the sake of catching or preventing crimes. When other surveillance camera manufacturers try to boast or brag about a clearer picture or smoother video in order to record and identify criminals who may have vandalized or stolen property; MOBOTIX challenges them, takes things a step further and asks the question, "Why just catch the criminal, when you could prevent the crime from happening in the first place?" By the time you've caught the criminal (granted you're one of the lucky ones who does actually identify and find them), you're still out of whatever property they have destroyed or stolen, the time and energy you spent in order to catch and prosecute them, all while neglecting the thing you really care about: your business. Is it worth it?
Would you rather catch a crime of vandalism or theft on your property or prevent it completely? That's the question that Steven Rosenbloom, ex-law enforcement who is now a BDM for MOBOTIX, discusses in this month's ABP MOBOTIX Newsletters.


What's MOBOTIX Have to Say?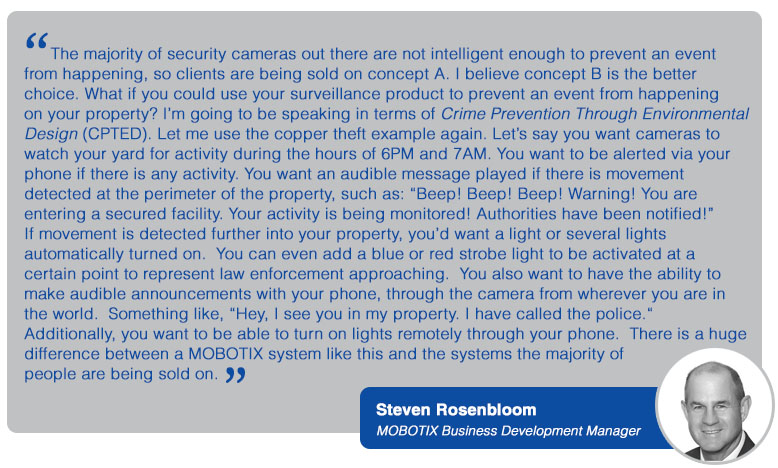 To read all of what Steven Rosenbloom has to say about how MOBOTIX does more when it comes to preventing crimes rather than just recording them, check out our blog post: "Crime Prevention the MOBOTIX Way".


Complimentary Products for Use with MOBOTIX
Sometimes you need that one special gadget you didn't know existed. Throughout the 15 years ABP has been in business, we have found many such things and wanted to share the ones we get the most questions about with you.
Energy Re-Connect PoE UPS & 12-24VDC/24VAC Midspan PoE UPS

The ERC-9005AF Power over Ethernet (PoE) UPS/Midspan -- PdbU offers a compact and cost effective power backup solution serving the IP Video surveillance, VSaaS (video surveillance as a service), IoT (Internet of Things), eDR (edge Disaster Recovery), cloud computing, SCADA, Cyber Security and more. Today's increasingly IP edge devices are PoE powered which are installed 100 meter (333 feet) away from the command center and will keep running as long as the PoE power is available.

What happens when connection or power is lost to the camera? The PdbU -- PoE UPS power backup for PoE edge devices is a proactive and protective standalone unit. It connects inline to any edge device providing power backup and stability to allow continuous operation when power or connection is dropped and/or disconnected.

Energy Re-Connect has pinpointed and challenged this critical infrastructure need, assuring power is provided to the edge device such as a surveillance camera without a drop, offers the PdbU as a direct inline PoE UPS. This unit can be powered and charging off either a PoE switch or an AC/DC power source and will output PoE as well as charge the built-in batteries. In case of power failure, the unit will seamlessly switch and continue to provide PoE power (up to 11 W for up to 1 hour).

PoE Extender and 2-Port Mini PoE Switch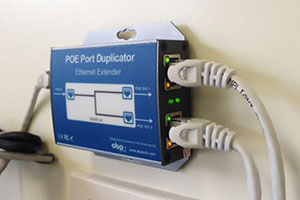 Surveillance equipment installers are many times challenged to provide network connectivity with PoE in ubiquitous places. The ABPTech portfolio includes a wide array of solutions to overcome those challenges. Let us help you find the best solution for specific cases that could include Fiber Optics, Ethernet extenders or Wireless links. This month we announce a unique device for those that need a couple PoE ports in the remote end that can help save AC and UTP wiring. The ONV PoE Ethernet repeater/extender and mini PoE switch is powered by PoE and delivers two Ethernet/PoE ports. (Available in 802.11 AT and AF versions)
Desktop Display Stands
Custom Mounts are now available for use with the C25 and i25 when you don't have a drop ceiling available. In addition we have a stand available for the MxDisplay so you can just set it on a counter for instance in a kitchen. To see the stands in action, watch this YouTube video: Where to get a Desktop Display Stand for a MOBOTIX MxDisplay+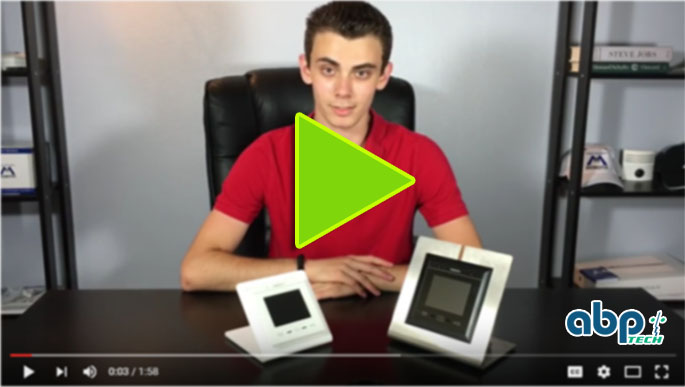 Let us help you with your next project. Please call us at 972-831-1600, #3 or email sales@abptech.com