Introducing MOBOTIX's New v25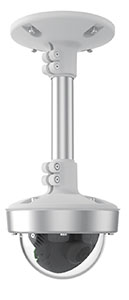 Available shortly is the newest member of MOBOTIX's indoor family: the v25. With the new v25, MOBOTIX is now offering a compact, all-round indoor camera in a classic dome design. The v25 is only suitable for ceiling mounting and has a tiltable lens mount. The lens tilt angle in relation to the ceiling can be adjusted between 0° and -90° using just two screws. The v25 is available with optional vandalism protection (stainless steel ring and reinforced dome). It can be quickly and easily mounted on all ceilings using the mounting materials included and it can be equipped with a small cable guide opening for hidden ethernet/PoE cables (behind ceiling tiles, for instance) and two-wire connections.
To mount the camera on a ceiling where the cable(s) cannot be hidden/laid under plaster (like a concrete ceiling), and/or to expand the system to include a two-way communication function, MOBOTIX offers an on-wall set with integrated microphone and speaker for the v25. Another advantage of this on-wall set is that the housing includes access-protected connectors for any two boards from the MOBOTIX interface boxes, allowing for expanded functionality. With the new MxTubeMount, the v25 (with or without on-wall set with audio) can be mounted to hang from unstructured ceilings such as in supermarkets, airports, warehouses, etc.
Top-notch protective equipment makes the v25 an attractive, affordable indoor vandalism camera for public buildings and high-security environments like prisons or military facilities. MOBOTIX also offers a vandalism set for the v25 that includes a sturdy stainless steel ring (matt), a reinforced 3-mm polycarbonate dome and security screws. The optional protective equipment provides complete, reliable protection for the housing and is available in two versions, for a v25 with or without an on-wall set. The stainless steel ring for the on-wall system is designed to ensure that the audio functions remain available.


What's MOBOTIX Have to Say?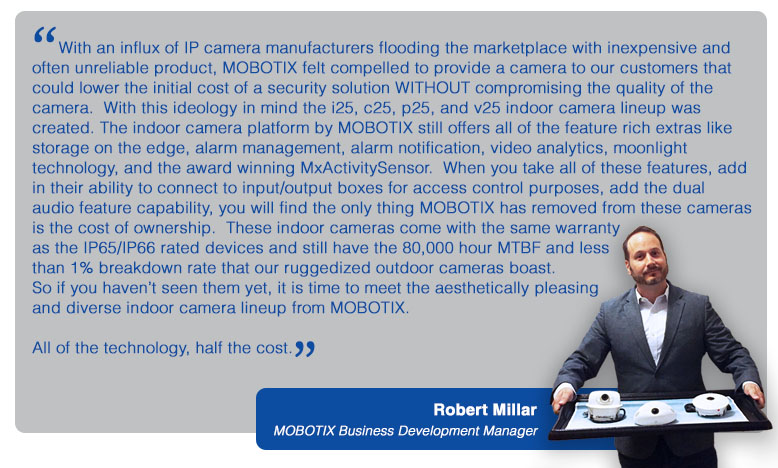 Konica Minolta and MOBOTIX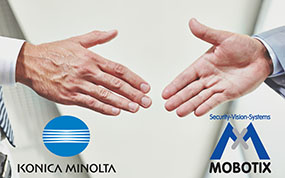 Within the past month, MOBOTIX has announced that Konica Minolta will acquire a majority stake in MOBOTIX. Although this news has come as a shock to many, it makes perfect sense. MOBOTIX provides cutting edge, smart IP video cameras in a true decentralized architecture. Coupled with their professional video management software, MOBOTIX provides an end to end IP video solution that is second to none in the industry.
Konica Minolta is known for high-resolution imaging sensors and high grade lenses. They also have industrial optical systems including 3D-LiDAR which can generate 3D images, determine distance, size and speed of moving objects. When the technologies of both companies are combined, you can expect further development on intelligent security solutions that will re-define the space.
The goal of both companies is to drive end user demand which will certainly benefit you, our integrators and partners. Also, MOBOTIX will continue to operate under the MOBOTIX brand. So expect business as usual from ABP Tech and the MOBOTIX team, but keep an eye open to exciting new enhancements that are sure to follow. If you have any questions regarding this information, please do not hesitate to reach out to me at (972) 831-1600 x. 106.

Products That Play Well with MOBOTIX
Don't forget our complimentary products such as Raytec IR lighting. Light matters and Raytec has a complete line of both IR and white lighting. While MOBOTIX light sensitivity has exponentially improved over the years, IR or white light is still needed and complete or very low light situations. We have pre-formatted microSD cards in 64, 128, and 200GB sizes. This will save you hours of time waiting for the format to finish.

We recently sent a newsletter about NAS storage from XQAND and how it can scale and monitor itself. We also have Overland Storage which we have used for over 8 years now and I can attest is a solid high performance NAS integrated into the MOBOTIX software platform. MxCC in fact automates setting it up for you saving a lot of time. Lastly, our access control products, ISONAS (IP to the door with easy setup) and SUPREMA (Biometrics including facial or finger recognition), Trine with strikes including multiple faceplates for a single box solution and RCI with a complete line of ReX, crash bar and mag locks. Call your ABP sales rep for details about these products.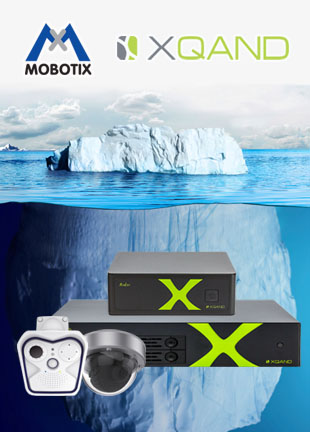 XQAND: The Perfect NAS for MOBOTIX
XQAND is a high-quality, German-made and designed to support leading state-of-the-art IP cameras like MOBOTIX, ensuring precise interoperability, high availability through RAID redundancy and capitalizing on key features that make the already impressive cameras even better. Why use a video storage system that can bog down your surveillance efforts by not offering the quality, speed and space you really need? XQAND solves the pain points that come with other video storage systems.
Top 3 Reasons to Choose XQAND for MX:
They both "speak German!" Both MOBOTIX and XQAND are manufactured with a reliable, high quality of German-made and all of XQAND's in-house developed hardware solutions were created to work specifically with high-functioning cameras like MOBOTIX.
Capability to monitor not only the health of your system, storage and network, but also each of your MOBOTIX cameras (with the Pro Version) - preventing mishaps from ever losing your footage.
No matter how many cameras you need to support or how many TBs you're running XQAND is highly scalable; providing solutions for whatever your surveillance set up requires - check out what solution is best for you on our table here.
If you use MOBOTIX cameras, XQAND is the perfect NAS to pair with such powerful cameras - make sure to check out our XQAND newsletter here that covers its features and capabilities in more depth!
Let us help you with your next project. Please call us at 972-831-1600, #3 or email sales@abptech.com