At ABP Technology, we understand the numerous technical and administrative challenges involved in deploying and maintaining hundreds of routers in the field. In addition to evaluating CPE feature-sets and pricing, complex licensing requirements can make the task of choosing the right CPE device even more daunting. After a lot of research on the perfect multi-site solution for ISPs and MSPs, we believe that DrayTek offers several unique advantages over competing vendors for large installations.
DrayTek has worked extensively with service providers all over the world to offer solutions that focus on security, feature-rich functionality and private cloud-based centralized management with easy licensing designed keeping ISPs and MSPs in mind.
ACS-SI Centralized Management System
DrayTek's system is Private Cloud based so each MSP controls his system and is Multi-tenant so your customer can have control of his subset of equipment with the privileges you assign them.
The VigorACS-SI is a TR-069 based centralized management system, that enables ISP/MSP network administrators to manage hundreds of DrayTek devices remotely, minimizing support calls and expensive truck rolls. It provides a visualized interface from which firmware can be maintained, configurations backed up, changed or restored in either unit or batch mode and general device status can be monitored.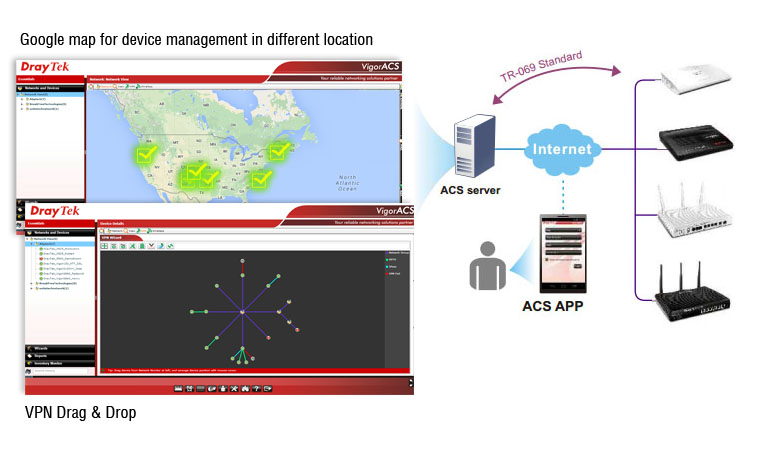 ACS-SI is a multi-tenant platform that lets you define various roles and privileges for network operators and administrators, it even comes with its own Android app. Drag-and-Drop VPNs and extensive reporting capabilities makes ACS-SI a favorite for ISPs.
Feature-Rich and Secure CPEs
All DrayTek routers come with a built-in robust firewall with User Management, Denial of Service Defense, URL/Web Category/DNS/Application filtering; comprehensive VPN support (PPTP,L2TP, IPSec,SSL) and Wireless Security that guarantees a secure solution for your customers to meet compliance requirements.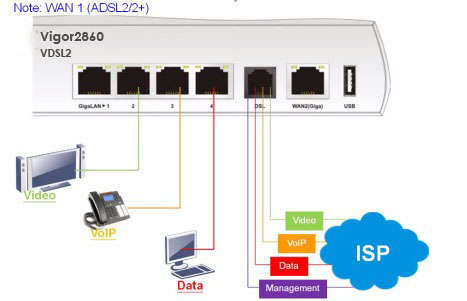 Triple-Play supported by DrayTek CPEs lets you offer Data, VoIP and Video services to your customers over separate WAN VLANs. DrayTek's Auto-VoIP QoS setting is perfect for ITSPs, it ensures pristine VoIP quality with a single-click QoS setting.
All these features along with DrayTek's ability to combine multiple services such as xDSL, Cable, Fiber and 4G LTE make it the preferred choice for ISPs all over the world; Vodafone in Europe has successfully deployed hundreds of DrayTek devices for their customers.
Contact us at 972-831-1600, option 3 or email sales@abptech.com to evaluate DrayTek products for your next multi-site deployment and we will provide you a FREE demo account of the ACS-SI management software.
Mark your Calendar!

ABP will be hosting an Overview Webinar on Thursday, March 26th at 11:00 AM CST on the DrayTek product line including the Dual WAN Vigor 2925, Vigor VDSL series, AP900 access point as well as midsize business solutions such as the Dual WAN Firewall Vigor 2960 and Multi-WAN gateway Vigor 3900. This will be followed by a brief demonstration of the Vigor 2925 web interface and various features that makes this one of our most popular product.
Furthermore, ABP and DrayTek will host trainings in the Los Angeles, Dallas and Houston area. For dates and locations, please vist www.DrayTekUSA.com.