Quality Assured. Secure. Filtered.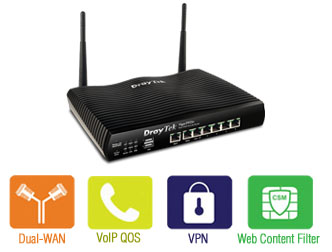 SMBs are now implementing more mission-critical processes in a cloud/hosted environment. Applications like email, CRM, Unified Communication, Premise Security, and ERP can all be implemented more effectively utilizing a third party provided accessed over the internet. However, many SMBs are implementing these solutions without taking the steps necessary to ensure that their connection to their provider is redundant, reliable and secure.
DrayTek multi-WAN gigabit firewall routers address these import issues with features such as Dual WAN Connections, VoIP QoS Tools, Content Filtering and State of the Art Security Firewall coupled with a flexible and comprehensive VPN platform. For example, multi-WAN enables customers to use (2) DSL Internet links or (1) DSL and (1) business cable link or even a 4G link to create a redundant connection to the internet. The two connections call also be combined and load-balanced. In many cases two services combined on a single DrayTek router are cheaper than one bigger single pipe.
In addition, ABP selected DrayTek for its great VoIP QoS solution. Voice call quality was one of our highest ranking features. ABP worked with DrayTek to make setup automatic and provide the best quality voice possible. DrayTek is also a security champion with world class VPN support. DrayTek makes VPN setup and configuration easy with a unique VPN Wizard. All these features are available even on the entry level DrayTek Vigor 2925 series. Dual-WAN support, Load-Balancing and Failover, flexible object-based SPI Firewall and Content Security Management, Intelligent VOIP QoS and support for up to 50 simultaneous PPTP/L2TP/IPSec VPN tunnels. Central VPN Management makes configuring LAN-to-LAN VPN tunnels a breeze. Last but not least DrayTek is ready for Integrator multi-location projects or MSPs with its optional TR069 remote monitoring, remote configuration and remote management options via DrayTek ACS-SI.

Your Business Depends on WiFi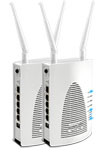 Intra-office mobility impacts your business everyday as more employees work on WiFi connected laptops, tablets and smartphones. Delivering the same reliability, security, and content protection to these devices has to become a priority for every SMB.
The new VigorAP 900 is equipped with simultaneous dual-band (2.4Ghz/5Ghz), 802.3af four SSIDs for each band, 802.1q VLANs and Bandwidth Management for each SSID. The units can be powered either by the included power adapter or by POE and setup is easy with a wizard to automate configuration of all VigorAP 900 on the network.