Trends in technology, and specifically in the areas of communication and infrastructure, are constantly evolving. That's part of the beauty of our passion (technology, that is); we are constantly improving products, processes and so on - it's fascinating! But it can also make working in the world of technology extremely challenging, as you know all too well. Which is why ABP has put together this Communications & Infrastructure Newsletter to keep you up to date on some of the most exciting trends we've seen in these industries. At a glance we'll be covering: how a great communication projects starts with a great network, the most exciting updates with 3CX's new Version 15, and Digium's latest innovation, Switchvox which enables resellers to get their hands "dirty" in virtualization. Read on to check out the latest trends with ABP!

DrayTek Managed Routers Can Take Your VoIP Projects from Good to Great!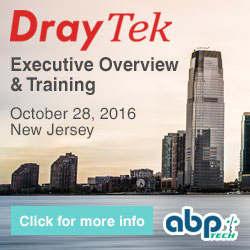 DrayTek routers are an incredibly valuable building block for any VoIP project with the robust infrastructure support they provide.
Intuitive VolP QoS
DrayTek's intelligent VoIP QoS design resolves 98% of common QoS issues, vastly improving customer experience by eliminating jittery audio and bad call quality.



Redundancy Guaranteed Internet Access
DrayTek helps you maximize your network bandwidth by combining multiple DSL connections with it's multi-WAN load-balancing feature. So you can enable more concurrent calls as your business grows. And with multiple WANs providing redundancy guaranteed Internet Access, your phones will always stay connected.



Centralized Network Management
DrayTek's Private Cloud Auto Configuration and Remote Management tool, the ACS-SI, has been designed keeping MSPs in mind. The software let's you easily monitor hundreds of deployed customer routers from one central interface. So you can keep track of each router's health, overall bandwidth, VoIP Quality and even session count to detect a possible security breach at your customer site. We are now offering our partners access to our hosted version of the ACS to simplify deployment further.
Overall, DrayTek is an incredible tool for any MSP or Reseller getting into Managed Services or Managed Routers.
To us at ABP these points are HUGE and we can't even imagine a PBX or Business network without implementing DrayTek anymore. Read more about DrayTek routers in our blog post: How Do You Choose the Right Router for Your VoIP Projects?
What's New in 3CX V15?
V15 is the newest release of 3CX Phone System for Windows. V15 includes some fantastic new features with some additional updates already announced to come in subsequent Service Packs, scheduled for later in 2016. Some of the most notable improvements come in the form of better PBX performance and tighter security.
3CX selected a new web server for V15, which is much more performant and continues 3CX's tradition of being a lightweight application and reduces the footprint. V15 is optimized to run on smaller appliances with fewer resources. Sounds like a win-win to me!
To give you just an idea of how many improvements went into 3CX's V15, we'll list a few of the most influential: improved security, easier to install, manageable FQDN & ability to offer a free subdomain (great for smaller companies),more supported phones, RPS functionality, increased brand/logo customizability, & Web Meeting updates.
In a nutshell, better performance, smaller footprint and greater security were the crux of the updates for the first releases of V15.
If you're interested in learning more about V15, like specifically what will be in each of the future service packs or a breakdown of the new features that were mentioned here and more, check out our comprehensive blog post: "What's the Deal with 3CX's New V15?"

Digium Virtualization
Ever considered selling voice solutions to your customers? Maybe you're concerned that you would have to learn "voice" - a foreign language to many value added resellers.
At ABP we are happy to help you selling voice to your customers and with the Digium solution, it just got a whole lot easier! Switchvox is now available in a virtualized package. That means, if you know VMWare, half the battle is already won. No need to worry about proprietary hardware, extensive training or complicated disaster recovery options.
Digium gives you all the tools you need to get started; free training, product demos and sales engineer support. Take advantage of the $5 billion VOIP market and add VOIP to your virtualized offering. Contact us today to learn more about Digium's partner program and how to get started.

Please contact your ABP representative by calling 972-831-1600 x3 or email sales@abptech.com for more details about the Digium product line and the new Switchvox VMWare capable.

Sennheiser - Phone or Headset?
We've noticed a trend in some segments towards omitting the physical phone and just using a headset. But is this trend real and is it sticking? We have seen the "headset only" trend particularly strong in the Microsoft OCS (which later became Lync and is now known as Business Skype camp) since Microsoft doesn't believe in the phone. However, it's hard to ignore the fact that despite all the advertising dollars and three name shifts, Microsoft still hasn't made it big in the Telephony space -- which may indicate that people still prefer a dedicated phone device on their table. What do you think?
Softphones are very convenient when working on the computer and doing a quick call; and they are definitely nice to have as a backup when travelling. However, a "real phone" still offers better ergonomics, never "turns off" and provides us a quick means of communications in a reliable way.
The second area where headsets have high marks is in call center space, where the dialer integrates with the softphone. In this application, echo and noise-cancelling headsets are a must and integration makes omitting the phone a solid alternative to dedicated call center phones. Generally speaking, we don't see headsets completely replacing phones; but we do see people buying headsets and using them more in a BYOD way.
It becomes really convenient to have a headset like the Sennheiser Presence (pictured above), that can simultaneously bind and receive calls from all three "phone devices" including your cell phone, your Bluetooth-enabled IP desk phone, and your laptop. Such a headphone provides the freedom to answer on any platform you choose depending on what's most convenient. It allows this freedom while still upholding Sennheiser's unparalleled call quality, sound and experience. If you haven't tried a Sennheiser Presence, we can't suggest it enough - this is not your 2001 Bluetooth headset! The noise-cancelling and acoustics are unreal, so good in fact that many users don't want to ever make a call without it after trying one. The Sennheiser Presence is definitely a great device to invest in for any avid traveler, road warrior, or conference calling connoisseur. We amusingly were wondering if we should propose Sennheiser to rename it from "Presence" to "Freedom."
Want more details? Please read our Sennheiser Product Launch and find out how you can "Try Before You Buy" program!