In the world of IP Communications and technology, things run in the fast lane. Companies are constantly developing newer, faster, more robust models, systems, and software. With everything (including your business) in overdrive, that leaves you little time to devote to researching to ensure you stay ahead of the curve and up-to date with the newest products and innovations. Which is why we wanted to provide you a place to find the latest news and highlights on the communications products we offer here at ABP Technology.

Fanvil's New Color X-Series
The new color "X" series is Fanvil's fourth generation of IP Phones. Backed by Fanvil's 10+ years of experience in VoIP development, the "X" series feature color displays while keeping the side DSS key screen for paperless labeling and easy access. The new color "X" series offers superior user experience and will ease the deployment of IP phones for your customers with new product concepts and target strategies. This line is completed with the models: X3S, X4S, X5S and X6S (which isn't quite on the market yet, but coming soon).
To discover all of the new "X" series unique features and benefits, check out our blog post "Fanvil X Series: Simply All That's Needed in an IP Phone."

New Products from Epygi
Epygi Technologies is committed to delivering a super-compact, no maintenance integrated communication appliance for small, medium, and enterprise-sized businesses to meet all their specific needs. Not everyone wants a cloud-based solution or wants re-occuring license fees. Epygi's QX IP PBX and Gateway products are the result of years of careful planning, expert design and exhaustive laboratory testing by R&D engineers. With such innovations, Epygi recently announced the rollouts of two new IP PBXs, the QX20 and the QX500. By adding these two products, Epygi is answering the varying needs of today's businesses. Epygi has scaled over the years and added unique vertical solutions.
To find out more about all these roll outs, please read our blog post, "New Products from Epygi - QX20, QX500 & more."

Digium's New D80 HD Touchscreen IP Phone
Digium has added a new great IP phone for Asterisk: the High Definition (HD) touchscreen IP phone, D80. With its sleek and elegant look, we've found that most everyone enjoys its presence. However, its most impressive feature is its ease of use! The Digium D80 phone features a large, 7-inch color HD touchscreen and a level of functionality that makes the phone ideal for day-to-day executive call handling.
Learn more about the D80 and its capabilities in our blog post, "Digium's New D80 HD Touchscreen IP Phone Announced."

EnGenius' DuraFon Provides the Perfect Ruggadized Solution for Office-Premise Mobility
EnGenius' DuraFon cordless handsets are designed for those who work beyond the confines of a cube and need a little more freedom. As a leader of Premises Mobility Communications, EnGenius' long-range cordless business phone systems and durable handsets deliver extremely wide-reaching coverage for the outdoors, throughout multi-story buildings and in complex environments. Quickly and easily deploy each system and connect users with valued features like push-to-talk broadcast and two-way intercom for instant communications.
Discover all the ways that the DuraFon can expand your mobility in our blog post, "EnGenius' DuraFon Provides the Perfect Solution for Office-Premise Mobility.

A Match Made in SIP Trunk Heaven: ABP's PBX Solutions & net2phone SIP Trunks
A common question we get here at ABP is who we recommend for SIP trunks. There are many quality providers in this space and it can be tough to filter out the noise and make the right selection for your customer's voice service. As you already know, ABP takes pride in the fact that we hand-pick every product and manufacturer we partner with, and that was no different with our decision to partner with net2phone. We chose them based on their performance, interoperability, and uniqueness. Not only is net2phone a subsidiary of IDT, the 3rd largest VoIP carrier in the world, but is also a 3CX-tested & supported trunk provider that operate smoothly with our other PBX platforms as well.
To find out all the benefits that net2phone offers and why we decided to partner with them, check out our blog post, "Why net2phone?"

Sennheiser - Why Headsets are Becoming More Important
Headsets in the workplace are becoming more common. It's not just for the receptionist and call centers any longer. Employees are finding benefits that include higher efficiencies in being hands-free, and more mobility in the immediate desk area and even around the office. Office environments have changed over the years and many are now very open and collaborative, which has its benefits. However, the increased noise level and interaction can sometimes be a distraction. Many are opting for a headset to increase concentration and block out some of the environmental distractions. UC platform adoption has increased and with that, the number of Softphone applications is more prevalent. These applications are best served with a good quality headset that allows for clear and audible communication not only for the wearer of the headset but for the audio quality and noise filtering properties of the sound sent to the other party on the call. Sennheiser headsets excel in all of these areas and should be a part of the products that you include in your solutions for your customers. If you are not offering headsets in your solution, your customer is getting them somewhere else in the market. In addition to missing the revenue potential, they could be getting equipment that detracts from the solution you provided and creating call quality issues and discontent. Don't miss out on a growing trend and offer your customers a long-lasting quality product they will enjoy.
Check out the impressive Sennheiser portfolio on our blog post, "ABP's Sennheiser Premium Product Portfolio", and let ABP assist you in the best choice for headsets for your customer. You can also learn more about the Sennheiser brand in our post, "The Pursuit of Perfect Sound: Sennheiser Trumpets Its Message of Great Value".


CyberData Update on the SIP Paging Server
If you're involved in offering paging solutions, this could be the product you've been looking for. CyberData's SIP Paging now has bell scheduling; the new SIP Paging server is an IP network-based hardware device that enables users to create multiple zones for paging in a VoIP network and to connect to legacy analog paging systems. The new release of the SIP Paging Server now has a built in bell scheduler feature that enables scheduled notifications to be sent to a single zone or up to 99 different multicast zones as well as legacy analog paging systems. The unit is programmed and administered through the web interface of the device. Additional features include the ability for 25 stored messages and bells that can be scheduled or activated via DTMF for mass notification.
Discover even more new features and upgrades to CyberData's new product in our blog post, "CyberData SIP Paging Now has Bell Scheduling".

UniData (formerly INCOM) - WiFi phone (ICW 1000G) with New Firmware
For the last few years, UniData has proven to be a rock solid WiFi phone and the only one that ABP has endorsed. ABP has seen tremendous success with this device in the market for a number of years and we continue to sell and support it. A couple of years ago the company had an ownership change, but has now moved back to its traditional name brand of UniData. This is the perfect IP phone for highly mobile office workers, maintenance departments, production employees and supervisors in plants or factories, or any staff members that need workplace mobility and on-the-go communication. Of course the key to the success in deployments and user satisfaction is a well distributed and stable WiFi environment. Some environments where this solution has sold successfully and has many satisfied customers are:
Medical offices, hospitals and nursing homes (the units do not interfere with medical equipment)
Warehouses
Car dealerships - for on lot sales communication
Hotel and spas
Apartment complexes
Schools
Multi-building campuses
Manufacturing areas
UniData is planning a new firmware release later this year with some new enhancements. Stay tuned for more information.

New 2N Products: IP Base Doorphone & SIP Horn
Helios Door Phone products have proven durable, long-lasting, and operate well on almost any PBX platform. The new 2N Helios IP Base Intercom offers sharp images with its integrated HD camera and excellent audibility in all conditions, using advanced sound processing. The base model can be extended with a 125 kHz or 13.56 MHz RFID card reader module. The intercom also features an integrated tamper switch that detects unauthorized intrusions into the device. Surface-mounting the 2N Helios IP Base is extremely simple, saving you time and building work costs. The package includes one or two-button options, leaving you free to choose. The intercom also has ready inputs and outputs for connecting an electric lock or other equipment.
The 2N SIP Speaker Horn is an outdoor IP speaker with exceptionally loud and clear sound. You are able to use this device as a practical tool for broadcasting live announcements across large areas or use it to broadcast preset announcements using the advanced planning function. You can rely on the top-quality sound and excellent audibility, that delivers the loudest sound of all IP speakers on the market at SPLmax 124dB. The 2N SIP Speaker Horn can also be used in conjunction with VMS platforms using ONVIF to respond remotely to anything you see on your camera system with live or preset announcements. Perfect for use in the following areas:
Parking lots
Warehouses
Industrial areas
Recreational / sports fields
Schools / campus environments
Outdoor venues



Yealink's New T5x Series
Yealink just announced their new T5x Series Smart Media IP Phones, which delivers extremely engaging communication experiences for users. These phones are designed to help business customers connect and collaborate easily in fast-moving business environments. The T5x Series features enhanced voice and video for an immersive experience as well as 7" touch-screen for call and feature control. These new, uniquely designed desk-sets feature adjustable screens and camera mounts that accommodate the user's preference for a desired angle and height. The T5x Series is well executed and delivers all the high-end specifications one would expect on an executive level handset including 16 SIP accounts, dual gigabit ports, built in WiFi and Bluetooth and USB port(s), Optima HD Voice, and support for the new OPUS codec. With an Android 5.1.1 OS, the phone offers a built-in browser and the option for third-party app installation, allowing for greater customization and convenience to satisfy diverse user demands. The T5x Series is just announced and stocking quantities should be available soon. We are happy to take pre-orders to fill your needs quickly. You should absolutely test one of these.

Event and Webinar Announcements
We're in the planning stages of two beneficial 3CX Trainings. If you're interested in either of the trainings listed below, make sure to mark your calendar and keep an eye on our events page for when we've booked an awesome venue and roll out the Registration Page!
DrayTek Certification Training - Dallas, TX: June 7-8, 2017
3CX Training - Philadelphia, PA: June 19-20, 2017
3CX Training - Charleston, SC: July 25-26, 2017
We have the following webinars coming up. For a complete list of webinars ABP offers, please click here.
Promos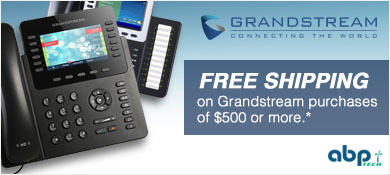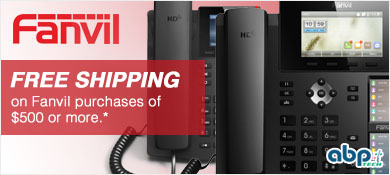 *Free standard shipping to 48 US contiguous states.
Contact your ABP Sales Rep on more details or how to take advantage of either of those promotions: 972-831-1600 x3 or sales@abptech.com.