Do you provision phones? Do you wish there was a faster and better way to do this? Have you have tried Zero Touch Provisioning before, but didn't like it? If you answered 'Yes' to any of these questions, we have a solution for you!
ABP offers its very own Cloud-based, Multi-Vendor Safe&Easy ZTP™ Zero Touch Provisioning Solution

ABP recognized the pain points that VARs and Hosted MSPs go through and came up with a better solution. Safe&Easy ZTP™ is one of many value-adds we offer to our partners. Safe&Easy ZTP™ gives customers the tools they need to automatically provision their purchased IP Telephony devices at a fraction of the cost of manual provisioning!

What's this all about?
ABP's Safe&Easy ZTP™ is a cost-effective, automated, multi-vendor, SaaS solution that allows devices to be provisioned and configured automatically and thus eliminates expensive manual labor while simultaneously reducing human error in the process. Watch the video here.
How does it work?
With Safe&Easy ZTP™ it's as easy as 1-2-3!

There are some extra steps on the back-end, but that will be all taken care of on our side. YOU just have to worry about the above three short steps. It doesn't get easier than this. Seriously, give it a try!



"I'm already using the manufacturer's Redirect and Provisioning Server. Why would I want to switch to Safe&Easy ZTP™?"
We are aware that Grandstream and Yealink offer ways to provision your phones free of charge. You may be totally satisfied with using the manufacturer's Redirection and Provisioning server, but why stop there? With ABP's Safe&Easy ZTP you don't even have to enter MACs anymore. Our system also uses the vendor platform internally so you get exactly the same results with less work and some extra bells and whistles!
Here's how ABP's Safe&Easy ZTP™ compares to others including our own White Glove process: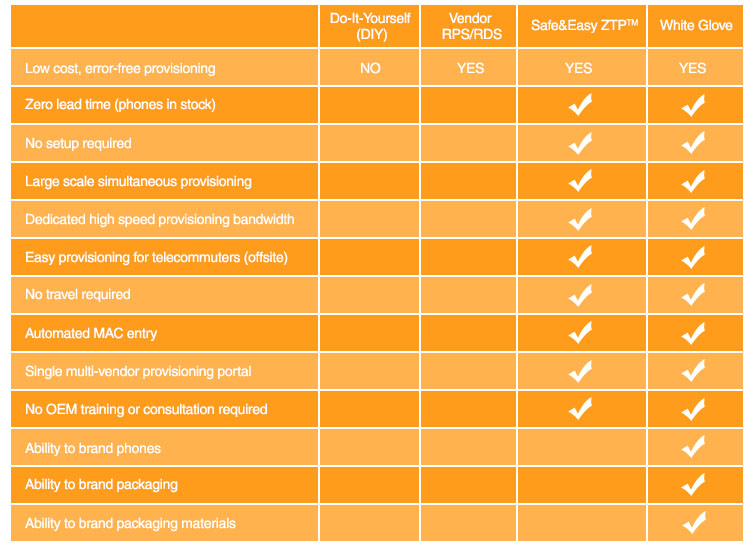 For more info on this or if you require White Glove Provisioning with kitting and pre-configuration loading and QC done at ABP with our Plug & Connect Ready™ provisioning program, please contact us for pricing by calling 972-831-1600, #3 or email us at sales@abptech.com.