Football season is here, and 2N has been working on their game plan and stacking their lineup of IP intercoms and access control products. With ABP on your team, you'll always be sure to have the latest IP news and products to create your very own dream team. That's why we're providing you with a breakdown summary of 2N's new product players and recent developments and how they can help you and your client's create an impenetrable security defense!

First on the roster is the new additions to 2N's security hard hitter, Helios IP Force line. Practice absolute control over a domain and provide security with style. Now with improved night vision and clearer images by adding wide-angle, HD cameras to the new models; as well as crisp, quality communication thanks to double microphones, powerful 10W speakers and echo-suppression systems. 2N improved the casing from IP65 to IP69K to use the highest coverage class to the IPX standard and ensure compatibility with third-party products by using standard SIP protocol. Personalize the elegant, yet uncompromising entrance guard with programmable, illuminated buttons and control access through options of card, code or by call.


2N's Indoor Touch communicator playing alongside 2N's lineup of Helios IP intercoms is an unbeatable duo as an integrated, professional door communication system. The Indoor Touch monitor is constantly adding new features to provide not only a sophisticated style to any interior, but a technical and multifunctional control system. While the Indoor Touch already runs an Android operating system, 2N is working on making the panel have WiFi functionality, which should be available in the next few months. 2N has also been focusing on developing upgrades and answering the increased demand needs for multiple unit installation projects.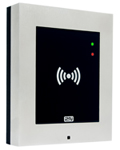 The 2N Access Unit is a vision of simplicity and accessibility. The unit simplifies the daunting task of installation, making it easy and approachable, even for those without expert knowledge. With just an IP RFID and NFC reader, it combines conventional readers, door controllers and IP converters into one, easy to use device; capable of reading 13.56MHz frequency cards and smartphones with NFC and Oyster cards. 2N's Access Unit is able to eliminate the need for centralized door controllers and other equipment often needed with other access control systems and operates as a stand alone device because of it's built-in input and output relays.


2N's new Firmware version 2.13 is launched and ready for download for all 2N IP intercoms and the 2N Access Unit access system. The new version has the following enhancements:
Support for "fail safe" locks
Setting the display of the 2N Helios IP Vario intercom
Recording user's own sounds
Embedding video in our own web pages
Expanded event logging via a web interface
Provisioning via TR069
Ability to report the status of intercom registration for PBX from the "Automation" section
Software control of the red lock pictogram on the 2N Helios IP Verso via the "Automation section"
Supports the 2N Access Unit in both versions - 13.56MHz and 125kHz readers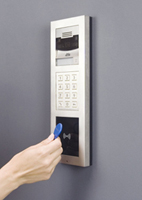 2N developed new secured RFID card readers for two of their IP intercoms; the 2N Helios IP Verso and the 2N Helios IP Force. These will be especially useful in situations where the intercoms are used with readers and cards from HID. These new RFID readers not only read all chips working at 13.56MHz frequency, but also operate with NFC technology. Being able to read PACS ID numbers from HID iCLASS cards, which are more secure, in addition to the regular uID serial number makes this reader even more competitive, with the ability to take part in projects and tenders involving HID equipment.

If you want to increase safety at a site, 2N's new and improved Helios IP Safety models will score you a lot more than just two points. 2N's modern emergency intercoms are sure to be seen thanks to its striking orange color; and with the new features like illuminated buttons, clearly visible labels, the addition of a 2-button option, and the most resistant intercom on the market (IP69K), communication between two remote locations in emergencies is easier and more reliable than ever, no matter the crisis or situation. The new models are available with the high-powered 10W speaker, 2 integrated microphones and intelligent echo suppression to guarantee clear two-way communication in even the toughest conditions.

Please learn more about 2N on our website and do not hesitate to call us to discuss any projects that you may have that could benefit from these products. For more information and assistance with Pre-sales Engineering, please call 972-831-1600 #3.