ABP would like to welcome EnGenius Technologies to the ABP family of products. We are excited to have an established and respected wireless brand in the fold. EnGenius Technologies, headquartered in Costa Mesa, California, is an industry expert in wireless communications and RF technology. The company delivers feature-rich, long-range wireless communications technology for voice and data. The bulk of our stocking items will be from the Neutron Distributed Network Management Solution that includes WiFi access points and switches for deploying a managed WiFi solution to your customers. We will also carry the Durafon line of SIP products enabling Office / Premise Mobility Solutions that can connect to most IP PBX platforms in the market. 
Neutron Distributed Network Management Solution 
Today's networks must be flexible and robust to meet the needs of the organizations they serve. Often comprised of different sizes, infrastructures, and locations, these distributed networks can place an enormous burden on in-house IT personnel or Managed Service Providers (MSPs) looking to manage, monitor and upgrade a potentially vast number of access points and switches.
The Neutron Distributed Network Management Solution is the answer! This highly flexible, scalable, fully integrated solution offers simplified configuration and management with enterprise-class performance, feature-rich hardware and centralized network management, at an incredible price point. The products have been installed in a wide range of applications such as Education, Financial Institutions, Multi-Dwelling Units, Professional A/V, Transportation, Managed Service Providers, Manufacturing, Real Estate, Hospitality, Healthcare, Industrial/Commercial, Retail, Residential, Venues/Stadiums, and Arts/Entertainment venues.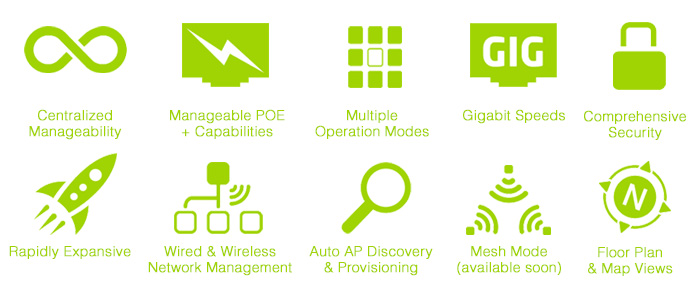 Durafon Office / Premise Mobility Solutions
As a leader of Premises Mobility Communications, EnGenius' long-range cordless business phone systems and durable handsets deliver extremely wide-reaching reliability outdoors, throughout multi-story buildings and in complex environments. Quickly and easily deploy each system and connect users with valued features like push-to-talk broadcast and two-way intercom for instant communications.
EnGenius' cordless handsets are designed for those who work beyond the confines of cubicles in hotels, resorts, schools, ranches, farms hospitals, assisted living facilities, retail stores, car lots, large warehouses and more.