IP Videophones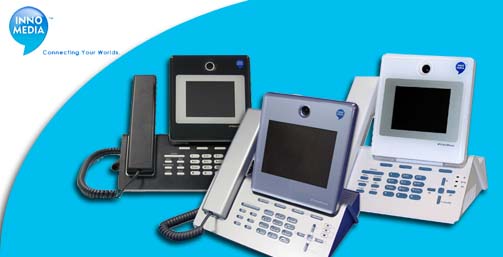 ---
IP Videophones: The next revolution in broadband communications
With the launch of these commercial IP videophones over broadband service ABP has ushered in a new generation of services and products where video calls are as simple and commonplace as voice calls are today. Simply pick-up the handset and dial!
ABP's newest videophones come with an abundance of features including: High-quality LCD screen, built-in NAT router for internet connection sharing, easy-to-use icon-based menu interface, and 3G compatibility for calling to 3G mobile phones.
Additional features on the higher-end videophones include Wi-Fi client capability for connection to 802.11b networks, and also PSTN line connectivity. PSTN is an appealing feature for both incumbent and competitive service providers as it enables them to provide IP Voice and Video services on top of existing PSTN services via a single device. The added advantage of this aside from ease-of-use, is that it allows service providers to avoid many first-line regulatory issues as users can still make outgoing calls via PSTN even in the event of a power failure.

Contact ABP to learn more about these IP videophones.
MTA5531 SIP Videophone: Innovative features such as an integrated Wi-Fi client and PSTN connectivity contribute to removing the last hurdles in the way of mass deployment. A high-quality 5" LCD screen offers crisp images for video calls. All of this is featured in a very elegant-looking case.
MTA 5410 Videophone: For more cost-conscious users, the MTA 5410 eschews all the fanciness of the 5531, without sacrificing any of the quality. You get the same high performance video calling capability without the extra cost of a Wi-Fi and PSTN interface. A 4" LCD screen is featured in a sleek, streamlined case.
MTA5410S Videophone: Targeted and built for the cost conscious, but still with quality at the heart of its design. It maintains the sleek appeal of the third generation of VideoPhones, and puts forth what it does best: IP Video Telephony.