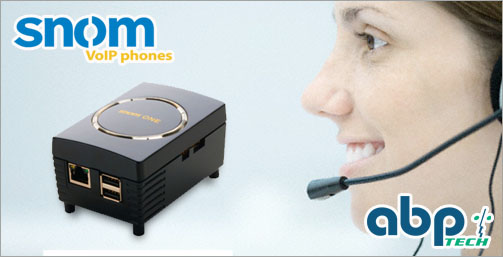 ---
World's Smallest IP PBX
Whoever said your company's too small to upgrade to VoIP? With the snom ONE SoHo, you can have the world's smallest IP-PBX running on just 1/10th the power of a typical PC. The snom ONE SoHo plugs into a wall socket and can run network-based services that normally require a dedicated server.
The snom ONE SoHo, combined with snom IP phones, is a reliable, easy-to-implement solution. Pre-installed with snom ONE IP-PBX software, the snom ONE SoHo is a convenient, purpose-built hardware solution that supports the full range of snom features.
Built to industry-standards, the snom ONE SoHo includes no mechnical parts, increasing its durability and stability. By utilizing the snom ONE SoHo together with snom IP phones, you benefit from the reliability and interoperability of a one-stop snom shop.
The snom ONE SoHo's user-friendly configuration utility, which is easily accessible via a web interfae, gives you complete control and management.
The snom ONE SoHo features:
Plug and Play with all snom phones

Simultaneous ringing of cell phones and snom phones

IPv6 support

Voicemail

SIP Trunking

Multiple extensions, alias names

ANI assignments
Contact ABP to learn more about the snom ONE SoHo.