| | |
| --- | --- |
| snom ONE plus | |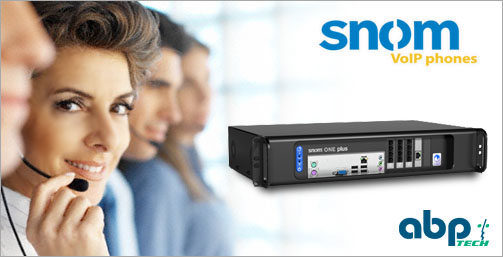 ---
End-to-End IP Telephone System
Innovation is at the heart of snom's business and with the launch of this new IP PBX appliance, snom offers resellers a complete end to end solution. The new snom ONE plus provides customers with an state of the art feature rich IP telephony system that is easy to setup and use and also does a good job of integrating feature available with the functionality of snom IP phones. In the end the user experience of a phones system is still through the phones that he touches and sees every day. Snom decided to create their own PBX in response to the many compelling requests by resellers and users in recent years to have a more consistent experience so customers would not miss out on key features delivered by the phones, but difficult to benefit from due to the installed IP-PBX systems or vice versa. This comes in 2 flavors- Blue and Yellow.
Built according to industry-standards, snom ONE plus does not include any mechanical parts, ensuring greatly increased durability and stability required to protect your investment. By utilizing the snom ONE plus together with snom IP phones you can be sure to benefit from the reliability and interoperability of a one-stop snom shop.
A user-friendly configuration utility gives you complete control and management of the snom ONE plus, easily accessible via web interface. The snom ONE plus comes complete with a full 3 year warranty as standard and can be easily wall or rack mounted. ABP is providing these units with a variety of configurations of different gateway cards to meet your specific requirements.
Analog
snom ONE 410 FXO (4 port)
snom ONE 810 FXO (8 port)
snom ONE 1210 FXO (12 port)
snom ONE 1610 FXO (16 port)
ISDN-BRI
snom ONE 410 2 BRI (4 channels)
snom ONE 410 4 BRI (8 channels)
snom ONE 410 6 BRI (12 channels)
ISDN/PRI
3010 ISDN T1/E1/J1 (up to 30 channels)
snom ONE 3510 combo
T1/E1/J1 (up to 30 channels)
4 FXO
1 FXS
Contact ABP to learn more about this snom product.