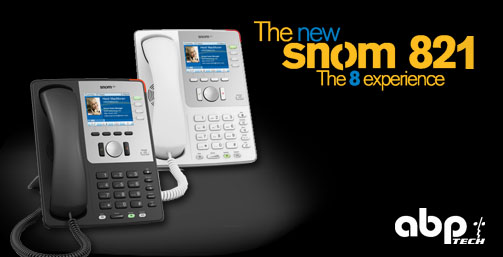 ---
The next step in the evolution of VoIP phones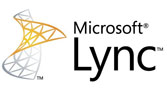 The snom 821 joins the snom 300 in being a qualified device by Microsoft and ABP is your OCS/Lync Partner of Choice. The 821 is the first qualified device on Microsoft®'s UC platform with extended feature support for even greater performance. Of course, the snom 821 continues to support all features already supported by the snom 300 (native Microsoft® UC integration, dual SIP stack) in addition to the following extended scenarios:
• Server side address book search with integrated presence
• Presence integrated in call history, contact list and search results
• Advanced security on server side, controlled keyboard lock
• Mapping of your favorite contacts on 3 color buttons (with instant presence view)
• WLAN support
• G722 wideband support
The snom 821 replaces the snom 820 as the entry model of a new generation of snom VoIP business phones. With this new 8xx series, currently consisting of the snom 821 and 870, two main requirements of modern telephony are realized without compromises in one device: mature VoIP technology and a design in a class of its own.

The snom 821 is the beginning of a superior line of business VoIP phones. Its extraordinary elegance and performance combines latest technology and well known snom features. The snom 821 is an amazing experience for everybody who is used to the basic world of telephony.

Moreover, the snom 821 offers all conveniences customers have come to expect from snom. As security is one of the main requests in our times snom always assumed this responsibility in a very serious way. So features like secure VPN, TLS and SRTP are an integral part of the 821s firmware. To make sure that the data of the customers is secure to inhibit to hack and copy data is one of the goals snom always want to achieve.
Additionally, the new snom 821 WiFi enables you to install the phone in any surrounding you are. Whatever you prefer, the snom 821 is prepared for any option: Power over plug, Power over Ethernet (PoE) or WiFi. It also comes with an integrated 1-gigabit switch.

But the snom 821 also offers a wide range of functions particularly relevant to the business world, like three-party conferencing, polyphonic ringtones, and up to twelve different SIP identities. This is the meaning of independence in every day work. To guarantee maximum of comfort the user interface of the snom 820 is designed especially for a clear and intuitive operation.
The look of the snom 821 was designed in cooperation with very renowned German industrial designers - and this first model of the new product line of snom phones is living up to the highest expectations in functionality and timeless beauty.
It is available in black and gray.
Contact ABP to learn more about this snom phone.