snom 370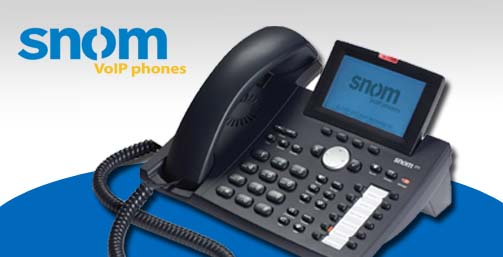 ---
The Next Generation of Business VoIP Phones with XML
In Stock - Shipping Now!
The snom 370 is the VoIP phone for the business user who needs immediate
access to all of their important information. With the large graphical, high-definition display, the snom 370 offers an improved and extended presentation
of call lists, address books and caller information. Caller information
can be customized easily through XML to depict the information the user
wants displayed.
High audio quality, ease of use, security and interoperability make the snom 370 highly suitable for SMEs, home offices, private users or ISP applications. Dedicated keys provide you with direct access to the functions for audio and call control, and context-sensitive menus offer you the additional functionality that you may need at any given moment. The backlit graphical display can be tilted for optimum reading angle.
12 programmable keys can be used to customize the functionality according to your own specific needs. The LED behind the corresponding function keys can show you whether or not your colleagues are currently on a call. And of course your colleagues can see whether your line is free or not.
Additional sophisticated call control features, full call detail, configuration options, and online help can be accessed via browser from the attached PC. Through the mini browser, users can have direct access to their own applications via the display screen. Users can not only customize the design of the display but, also view news tickers and other information as well as access central or public phone directories.
The snom 370 offers more additional customer-oriented functionalities and applications. With its expanded memory capacity in addition to all necessary office functionality such as choice of trunk line, status indicator, group lines, transfer, call-pickup or conferencing (3-way conference bridge) more scope for individual functions and applications. The expanded memory capacity also enables the depiction of graphics and high resolution pictures to show the status of contacts (e.g., busy, on-line, off-line) similar to Instant Messenger. It is also possible to play music and media files.
Context-sensitive menus offer additional options according to individual requirements. The snom 370 supports several audio devices simultaneously, for example, it is possible to use the handset, headset, and loudspeaker concurrently.

To avoid problems with unwanted violations of your audio data, the snom 370 supports the security standards TLS (Transport Layer Security), SRTP, and SIPS which are necessary to protect against electronic eavesdropping and data theft.
Contact ABP to learn more about the snom phones and interoperability with softswitches and IPBXs.
Note: All characteristics listed can, due to the constant development of our vendors products, be changed without special notice. Depending on local specifications or market demands it may be the case that products are only available with deviating features or settings. Deviations from the illustrations, including the color, are possible. For price information, inquiries or questions about availability please get in touch with our Sales department.