VoIP, cordless, elegant design: the new snom m3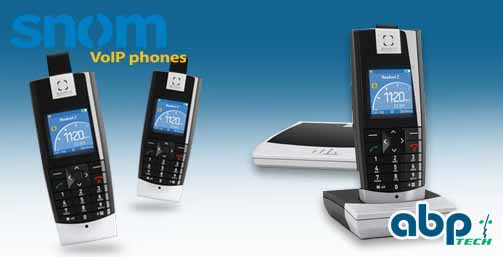 ---
Mobility increases productivity - Never lose a call at the office!
The snom m3 is a far reaching and expandable cordless add-on to your IP PBX with an indoor range of 150 feet and an outdoor range of 300 feet or more.
The snom m3 has multi-line functionality for up to eight handsets – allowing for up to three parallel calls at time. It has a 128 x 128 pixel color display with backlight function and operates for 10 hours talk time or 100 hours standby. Additional features include three-way conference calls, call transferring, music while on hold, call forwarding, and speed dialing with an address book allowing up to 100 entries. The snom m3 menu is easily configurable to meet each user's needs and allows the option to configure remotely.
DECT technology virtually eliminates issues of dropped calls, interference, security and range by employing IP DECT access points that seamlessly "handoff" calls and enable roaming. This system is ideal for any single or multi-location business, retail or institutional setting that requires mobile employees to be available to take or receive calls at any time.
High end design coupled with high end functionality - something that has been missing in the VoIP hardware space.
Contact ABP to learn more about this snom cordless phone.
Note: All characteristics listed can, due to the constant development of our vendors products, be changed without special notice. Depending on local specifications or market demands it may be the case that products are only available with deviating features or settings. Deviations from the illustrations, including the color, are possible. For price information, inquiries or questions about availability please get in touch with our Sales department.