snom 300 Family of IP Business Phones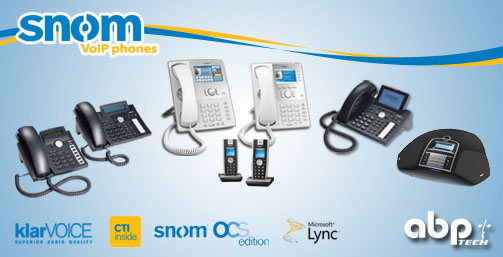 ---
snom World-Class Business IP Phones
The snom 300 series are high-end but affordable business phones, which addresses the communication needs of power users such as executive and administrative staff who require very high standards from communication systems.
snom today is probably the most robust Business IP Phone on the market for the SIP standard. snom technology is a leading IP technology company out of Germany which has been building SIP products since 1999 and have won technology awards and interoperability awards. snom technology has been represented in the US by ABP since 2000 and has been deployed successfully into the most diverse business applications through, OEMs and resellers all across the Americas.
The strength of snom's new product line is the quality of the software, the robustness of the plastic and ergonomics of its handset and overall design plus the interoperability with almost all SIP proxy's, IPBXs, and other SIP products due to its adherence to the IETF SIP RFCs. Open standard compliance makes the snom phone universally applicable offers an ensures longevity and investment protection.
The snom 300 series product line includes the snom320 with a small but highly effective 2x24 character display for numbers dialed, DID, ANI display etc. The next step up is the snom360 with the same keyboard and layout, both have 12 programmable keys with LEDS that can serve as 12 lines, destination or station selection keys with presence indicator. The snom360 has a 6 line / 128 x 64 pixel graphical display.
The snom 300 series can be programmed for customer soft keys and can be private labeled in volume.
Call your reseller or ABP for more information. Find Reseller