LG-Ericsson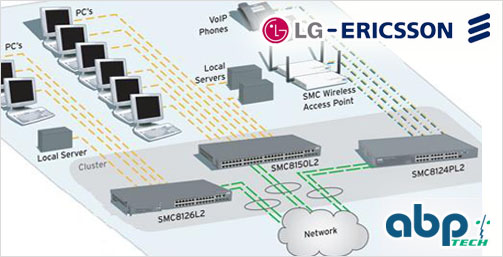 ---
High-Performance Ethernet Switches and POE Solutions
IP Telephony and IP Security both demand high performace switches, solid power over ethernet (POE) and QOS, VLAN and other managing functionality. LG-Ericsson provides solid high-end switching solutions at affordable prices. These products are designed with ease of use, intuitive interfaces and overall value in mind.
All products are supported by ABP and LG-Ericsson's easily-accessible technical resources. The company backs-up the quality and ease-of-use that's built into its products with an industry-leading warranty program and expert technical support.

LG-Ericsson provides toll-free access to live technical support worldwide (24/7 in U.S. and Canada) in ten languages to supplement its comprehensive on-line knowledge base and responsive email support. And, its cross-ship product replacement service gets customers back on-line faster when problems arise.

LG-Ericsson's portfolio includes:
SMC Workgroup 10/100 Auto-sensing Switches
SMC Managed Switches and SMC's Desktop Switches
SMC EZ Connect™ features unmanaged switches and EliteConnect™ also covering SMC's enterprise-class wireless LAN solutions.
LG-Ericsson has set the standards for high-end, high-bandwidth with high reliability, software quality, ease-of-use, and affordability in network solutions and components.

We definitely recommend LG-Ericsson as the backbone for SMB customers that deploy IP Telephony, NAS Storage or security cameras.
Contact ABP to talk about your project and discuss the different options ABP can offer.

SMC's Workgroup 10/100/1000 Auto-sensing Switches are the fastest, most economical way to build your network. Ideal for SMB and small offices, these Switches connect workstations and other network devices together quickly and easily with automatic sensing of port speed and optimize your network bandwidth.

SMC Tiger Managed POE Switches help you build and maintain a performance network with efficiency and ease. Designed for traffic-intensive networks; these switches have built-in support for QoS, VLAN, and Port Trunking and high MTBF.

SMC's Desktop Switches provide your LAN with high-speed, 10/100 Mbps auto-sensing connectivity for as many as 5, 8, 16, or 24 users. The perfect solution for adding additional Ethernert ports in your home offcie or small office.