ITS Telecom Door Openers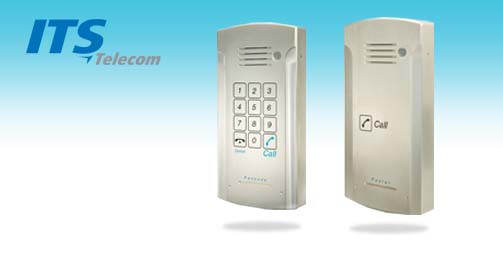 ---
SIP Opens Doors for IP PBX or Security Management Systems
ITS Telecom provides a full line of VoIP Access Control Systems for IP environments, with connectivity to SIP IP PBXs and SIP phones.
ABP has certified ITS Door openers with several IP PBX platforms, Mobotix IP Cameras and several Access Control / Security System management platforms.
ITS door phones are vandalism proof machined out of a sold piece of aluminum with piezoelectric keys providing full duplex telephone communications in an outdoors environment including speakerphone mode and remote door opening. On the model with dialpad the door phone enables authorized visitors to enter a 4-digit access code to unlock the entrance door or a direct extension can be dialed. The person answering can opoen door by typing a code to open the door.
The ITS Door Phones have been designed for indoor and outdoor use.
ITS Telecom Access Control systems combine many great features, a new Graphical User Interface for secure remote management.
ABP has interop tested this product with Mobotix cameras to create a high-end vandalism proof outdoor / indoor video door opener combination.
This product is only sold through certified resellers and with ABP Technical support.

Contact ABP to learn more about these Peripheral devices.
Products
Technical Specifications
Downloads
Pancode IP - Piezo Keypad. Aluminum case. Piezo keypad. Optional Color Video Camera. Anti-vandal. Weather resistant. Outdoor/Indoor Installation. Speed dial button.
Pantel IP - Piezo Single Button. Aluminum case. Piezo single button. Anti-vandal. Weather resistant. Optional Color Video Camera. Outdoor/Indoor Installation. Speed dial button
VoIP (Ethernet) Interface
Piezo Case type
Entry access codes (Only Pancode)
Direct link to operator or receptionist
Internal door opening code from any extension        
Hands- free operation
Weather & vandal resistance (Piezo systems)
Day/night mode         
Speed dial mode        
Programmable conversation time-out
Volume control adjustment
Integration with card readers & security devices
20 DTMF Character support
SIP Protocol Support 
Power over Ethernet
Voice activation technology  
Remote opening from remote sites
Audio codec selection           
Programming & setup using GUI
Outdoor/Indoor Installation
Support 12V AC power supply
ITS-VoIP 424 KB