Hitachi Cable WirelessIP3000 - WiFi IP Phone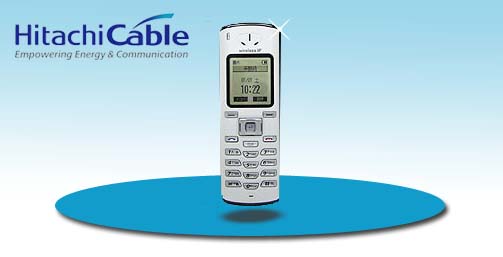 ---
Offering a new communications environment using SIP and IEEE 802.11b, with an open concept only possible with wireless IP phones.
Hitachi's stylish new Wireless IP3000 is a SIP based 802.11b wireless IP phone. Aimed at the consumer or business user the Wireless IP3000 boasts many of the features of the market leading Wireless IP5000, but a lower price point.
From an office primarily using analog phones to a leading-edge office that has introduced IP-PBX and migrated largely to VoIP, WirelessIP3000 flexibly supports a wide range of user environments. Create a truly ubiquitous network for all your business situations.
WirelessIP3000 is an advanced wireless IP phone that provides crystal clear voice communication over an IEEE 802.11b wireless IP network. The WirelessIP3000 supports the conveniences and functions of a digital phone like hold and transfer, call waiting, caller ID and much more and also perfectly integrates into most PBX and IPBX systems as well as works with the companies existing Wireless Networks and the overall corporate network.
Hitachi-Cable Wireless IP phones includes state of the art security and has a robust and well proven SIP stack that has been inter-op tested with most leading platforms. This phone uses common Access Points and roams smoothly between access points.
The WirelessIP3000 is equipped with powerful security features conforming to such standards as WEP (64/128/256) and IEEE 802.IX (MD5/EAP-TLS), in order to prevent information leaks in a wireless LAN environment. Authentication via 802.IX (EAP-TLS) achieves secure communications using Contact ABP to learn more about Wireless VoIP phones. electronic certificates issued by VeriSign. Communications encryption and prevention of terminal spoofing allows you to access communications comfortably and securely in any environment.
The Hitachi-Cable WirelessIP3000 phones are compact and light and fit into your pocket they are designed to provide over two days standby and 4 hours plus of talk time so you can use it anytime and anywhere.
The WirelessIP3000 is a great companion phone for any SIP based IBPX system like Avaya, Shoretel, Zultis etc. or can be used with hosted IPBX based on Asterisk, Broadsoft, Sylantro and many others. Read this Feature Update
Discover more about ABP's latest Wireless VoIP solutions.
Feature List
Technical Specifications
Product Applications Scenarios
Downloads
As voice signals are automatically compressed using audio CODECs, they can be transmitted over a low bandwidth without interference from other data signals. Furthermore, to provide consistent superior voice quality over varying and congested IP network conditions, the WirelessIP3000 is equipped with advanced Quality of Service (QoS) technologies such as CODEC negotiation, enhanced jitter buffering technology, and packet delay compensation.

This phone is ideal for those who want the power and cost efficiencies of VoIP but also love the freedom of wireless. All the commonly used features needed for day-to-day business are accessible directly from the phone such as:
Phone book (200 entries)
USB Cable config
Call History (20 incoming/outgoing calls)
Call time
Dialed Number Display
Calling Time Display
Caller ID Display
Extension Number Display
Mute, Hold
Call Waiting Indication
Dial Tone fowarding
Speed Dial (One touch)
Distinctive Rings
Call Pick Up
Call Back Answer
Call Waiting
Redial
Conference: 3-party calls. (A system that supports the conferencing function is required.)
Signal Level/Battery Level
Date/ Day Of The Week, Time
Silent Display/Vibration Display
Alarm Function
Microphone, speaker, Linger
User Friendly Graphical Menu
Hardware Dimensions (H x W x T): 43.1(W)mm×19.8(D)mm×129.8(H)mm Weight: 102.2g (including battery pack) LCD 128 × 128; 8 lines, 10 columns (double-byte characters). FSTN liquid crystal, 4-tone monochrome
Operating Temperature: 5~40 C / Storage Temperature: -25~70 C
Buttons:
Number key pad (0-9, *, #)
Two Soft keys(L, R)
4 Directional Stick Four-way key (up, down, left, right, Enter)
Send, End, Clearl Key
Wireless LAN
IEEE 802.11b
CSMA/CD
DBPSK, DQPSK, CCK
11/5.5/2/1Mbps
2.400-2.497GHz
VoIP
SIP v2.0
Coding: G.711 u / A-Law, G.729A
Networking:
IPv4, TFTP, DNS
DHCP Client
NAT Transversal; Static NAT, uPnP
Security:
WEP(64bit/128bit/256bit)
802.1x(MD5/EAP-TLS)
Secure RTP (to be supported)
WEB based UAM
AC Adapter
Battery: Lithium Ion Polymer battery 3.7V 1300mAh (3 / 55 hours)
Management:
SNMP
Sys log
HTTP
Application areas:
SOHO Scenarios - Home IP companion phone
SME Scenarios - iPBX companion phones
Warehouses
Industrial complexes
Department store
Retail
Franchise
Government
Educational Campus
Healthcare
Hospitality
Event Telephony Scenarios
Satellite Telephony Scenarios
IPBX OEM Partners
Resellers please login to VAR login and proceed to support section/downloads to access this information
Hitachi Cable WirelessIP 3000 Datasheet
Hitachi Cable WirelessIP 3000 Administrator Manual 1MB
Hitachi Cable WirelessIP 3000 USB Manual for Administrator 327 KB