Eutectics™ USB phones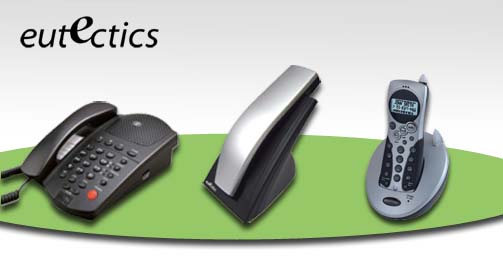 ---
USB phones greatly improve the capabilities of PC based telephony solutions
Eutectics Inc. specializes in the design and development of PC connected USB phones addressing the need for better, more cost effective CPE for the emerging converged voice and data industry.

USB IP Phones substantially improve the audio quality and user interface of PC based telephony. Stereo quality audio processing is handled by a dedicated ASIC, in the phone. Full button integration with softphone clients running on the PC. The USB phone looks, sounds and feels like a conventional phone.
Operation of the USB IP phone does not require for the user to learn a new interface. However if the user is ready for it optional new and powerful capabilities become available thru the integration with PC applications.

Eutectics phones come in a variety of ergonomic form factors offering headsets, handsets, desk/speaker phones, and 2.4 GHz multi-station cordless phones.
ABP has a choice of Eutectics USB IP phones to suit a variety of needs for the millions of traveling professionals, road warriors, students or employees in campus environments, SoHo and telecommuting offices. Coupled with a softphone or as a standalone, USB phones can increase productivity, extend the usefulness of the client's IPBX, improve the quality of voice connections while reducing cellular expenses and the reception challenges of cellular coverage.

Contact ABP to learn more about these Eutectics™ phones.
Integration Packages and Protocol Options
Products
Downloads
Skype
Cisco Softphone
NBX pcXset Softphone
Sphere Communication Spherical 4
Shoreline ShoTel Softphone
Northel i2050 Softphone
Artisoft Softphone
CrystalVoice Client
OAISYS Netphone
Avaya Softphone
Siemens Opticlient
Counterpath/Xten Softphone
Eyepmedia Softphone
3WTel/Superior
MSN Messenger
SJ Labs SJphone Softphone
MyJabber Softclient
IAX Phone
IP Blue Softphone
API Toolkit Request
Drivers Only
Snom Softphone
Skyper Protocol
Cisco SKINNY Protocol
NBX Protocol
Spherical 4 Protocol
Shortel Protocol
Nortel Protocol
Artisoft Televantage Protocol
Avaya Softphone Protocol
Siemens Optioclient Protocol
Eyebeam/Xten SIP
Eyep SIP
Eyep H.323
Eyep MGCP
3WTel/Superior Protocol
MSN SIP Protocol
SJ SIP
SJ H.323
MyJabber SIP Protocol
IAX Protocol
IP Blue SKINNY
IP Blue SIP
API Toolkit Request
Drivers Only
The IPP200 is the simplest and most cost effective of the Internet Power Phone product line. The IPP200 is designed to function as closely as possible to a standard high quality Telephone handset, matching the expectations of traditional telephone users. The phone comes complete with a functional hanger, designed for easy mounting on the side of the PC monitor. Hook-switch functionality is provided by a Eutectics DLL and API. The IPP200 USB interface is built into the phone providing ultra-simple plug-n-play operation.
IPP200T Desktop Handset Internet Power Phone 200T is a desktop version of the IPP200 which provides the same crystal clear audio and hook switch integration in a bold, clean, monitor independent style.
The IPP201 Portable provides high audio quality and hook switch functionality in a compact form factor suitable for traveling professionals. The Hook switch is activated when the phone is placed face down. It also works just by orienting the device in a horizontal position. The ultimate in portable, integrated IP phone convenience!
Internet Power Phone 400 Desk set Key Phone adds full keypad functionality to the clean look of our IPP200T Desk set. The IPP400 consists of a Desk set cradle which connects to the PC via the USB port. Full keypad dialing is supported, as well as an Internal Ringer, Hook switch, standard 12 button keypad with Flash, Store, One-Touch Redial and three Programmable Speed Dial buttons. The IPP400 is fully integrated with all the popular soft client applications available today. Full button dialing, hook switch and advanced features are provided. The IPP400 is the perfect combination of sleek design and top notch functionality!
IPP520 Speakerphone with Memory Dial & headset connection. Internet Power Phone 500 Desktop Speakerphone Series provides the functionality required by office professional including speakerphone, redial, mute, a hold and flash transfer.
The Internet Power Phone 2000 combines the best of both worlds, supporting standard telephone devices connected to IP telephone services. The IPP2000 adapts any standard telephone for use with your PC. It is the perfect blend of old and new technology and gives you the greatest amount of flexibility to meet your IP telephone needs. The IPP2000 uses any standard phone, converting it into a high quality USB communications tool. It also supports full button integration, with hook switch, DTMF dialing, and Caller ID to the phone. Full 90V ring is provided, with a ringer eq. of 3.5 standard telsets.