ENTICE Platform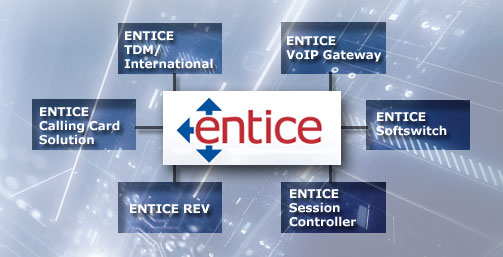 ---
ENTICE: An open solution platform that takes versatility and network control to a new level
ENTICE (Emergent Networks Telecommunications Infrastructure Control Environment) is a vendor- and technology-agnostic solution that enables customers to integrate virtually any network protocol or network infrastructure, and to incorporate such value-added end-user services as prepaid, postpaid, unified messaging, find me/follow me, voicemail, and others, all according to the customer's preferred deployment schedule.
ENTICE bridges H.323, SIP, SS7, ISDN, IP, TDM, and other leading technologies, and supports Cisco, Lucent, Excel, or other compatible equipment. Various pre-packaged applications are available off-the-shelf that provide specific functionality; all aspects—whether for gateway integration, billing, product/service enhancement, or administration—are installable either by Emergent or, with proper training, by internal or third-party integrators .
Emergent offers a full range of products including the ENTICE Softswitch, the ENTICE Session Controller, ENTICE Voicemail, Unified messaging, Prepaid/Postpaid solutions, the ENTICE Tandem/International Gateway and the ENTICE VOIP Gateway. Emergent's products are designed to work together, integrated into a seamless solution or they can be integrated with most other vendors products in this category. ENTICE solutions are priced aggressively for carriers in the wholesale or retail carrier business.
Contact ABP to learn more about the ENTICE platform.
ENTICE Solutions
Target Markets
Downloads
All solutions are based on the ENTICE Open Solutions technology they can easily be customized by Emergent or the customer to meet specific needs.
ENTICE Softswitch:
It provides carrier-grade call control, translations, routing and element provisioning for a network of H.323, SIP or H.248 based network elements. The optional SS7 controller provides access to signaling networks worldwide. The solution is scalable to control a network of over 100,000 ports.
ENTICE Session Controller:
It allows full access to all the communications flows (signaling, media, and media control) required to establish a media session in a packet network. This solution is designed to bridge the gap between two networks, offering protocol translation between H.323 and SIP, media access and control to solve security and vendor compatibility issues as well as providing call detail records for billing.
ENTICE E-REV:
It is a perfect solution for delivering VoIP to your customers today. It is a combination of a softswitch and session control into a single solution which allows calls to move seamlessly through NATs, firewalls, the internet and the PSTN. Emergent's softswitch/session controller solution is vendor agnostic and has been tested with many of the primary IP CPE vendors such as: Cisco, Grandstream, Azatel, Sipura, SNOM, and Audiocodes. By adding the optional ELICIT package, basic call services can be enhanced to include IP centrex capabilities such as call forwarding, call waiting, call transfer and 3 way calling. Lastly, Emergent can supply other revenue enhancing services such as prepaid, postpaid, voicemail, unified messaging and conferencing.
ENTICE Tandem Switch/International Gateway:
It combines the abilities of the ENTICE Open Solutions platform for routing, screening and translations with open, programmable hardware, This solution can provide converged switching capabilities (IP or TDM in any combination) in the networks of most countries. This solution is perfect for wholesale carriers who must offer competitive services at a reasonable price in an evolving network. Minimize (basically zero) moves changes and adds cost and time (staff optimization).
ENTICE VoIP Gateway:
A carrier grade VOIP gateway that is perfect for wholesale carriers and for carriers who wish to build infrastructure that is ready for the latest enhanced service offering. This gateway product is a snap to configure using the built-in WEB UI. It can terminate and originate traffic in any network and is one of the few gateways that can offer SS7 to IP capabilities integrated on the same chassis. This solution is competitively priced and is targeted for carriers interested in gateways that can process traffic ranging from 192 ports to over 14,000 ports!
ENTICE Enhanced Services Platform:
Deliver enhanced services in a converged network. This solution is able to interoperate with disparate networks, and it is fully featured, reliable and scalable. It offers prepaid, postpaid, voicemail and unified messaging services for all networks. Custom call center solutions have also been delivered using this platform. Integrated messages with your email system. Configured the way your user wants, not the way the system administrator demands it because of lack of system flexibility.
Tier 2 and Tier 3 carriers
"Green field" carriers
Mobile/Cellular providers
Large enterprises with VoIP enabled networks
Enhanced network providers
Call Centers