IP-Based Access Control by E-Data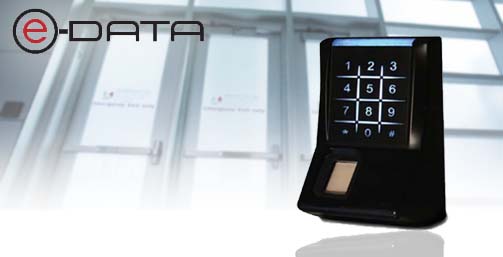 ---
Access Control. Anywhere.
In an ideal world, you could manage complex processes from a single point. Instead of running around, adjusting specifications at individual locations, you could make changes from one location. Instead of pressing ten buttons at ten sites, you would press one and all ten sites would change.
The Internet makes this dream a reality. e-DATA introduces a next generation Linux based, open architecture access control system that utilizes the capabilities of a web-based system that can be managed from one location without the need for servers or software. Network-ready applications allow users to modify and control access over the web via an intuitive user interface embedded on the static or DHCP main controller. e-DATA Access control can use traditional (or existing) card readers, or integrate e-DATA Biometrics. e-DATA Biometrics with the Fingerprint Key generate encrypted finger templates to eliminate problematic access card and key fob management (issuance, retrieval and inventorying) by requiring only the presentation of an enrolled user's finger, with an optional access card or PIN.
Getting Started with Biometrics: An Example Application
With biometrics and access control combined under one system, e-DATA is on the forefront of changes that will revolutionize the way people use access control in installations of all sizes. For an initial entry into biometric access control, users can add an expandable single point of e-DATA biometric access control to a data communication room to protect servers, telephony racks and UPSs with authentic identification of authorized users. This biometric access point provides a high level of security with greater ease of use than traditional keys or cards and may be controlled locally or remotely over the Web without any required integration to other security hardware.
• e-DATA Master Unit
e-DATA Access Control is the premier solution for small to large access control - today and in the future. The device can be installed quickly and easily and is compatible with the e-DATA Fingerprint Key™ and all other standard reader technologies. The e-DATA Master Unit operates as an independent stand-alone unit or as a hardware component connected to any existing Ethernet network.
• Secured Access Point Identification
Visitors or staff present their finger or their access credentials to the reader unit which accurately identifies the person. The coded exchange of information between the reader and controller automatically triggers the appropriate action at the secured access point- releasing the door or denying the unauthorized user.
• Browser Based Administration
e-DATA access control configuration is easily administered by accessing the
built-in, Java application's user interface through any standard web browser, including Mozilla FireFox, Windows IE or Apple Safari. Once connected, users can create all required access profiles, time zones, and other system and user settings for individual access points or entire system configurations.
Contact ABP to discover more about this technology, training sessions and our other IP Surveillance add-on products and solutions.

The Fingerprint Key™ is an effective fingerprint biometric reader available in two memory configurations supporting from 500 to 3,000 stored user templates. The Fingerprint Key comes standard with an illuminated sensor, touch-sensor keypad, as well as an optional internal iCLASS card reader -- providing multiple ways for granting authenticated access. Sealed in a sturdy NEMA 4, IP65-rated enclosure, the Fingerprint Key is the perfect choice for any environment installation. The Fingerprint Key supports fingerprint template distribution between networked readers, eliminating the need to enroll system users at each reader. A user is simply enrolled at any connected Fingerprint Key, and then the user's templates are automatically transferred to system readers based upon individual access rights.

Master Unit 200 (MU200) - Up to eight readers (four biometric)
• Built-in Web server
• 10/100 Mbps Ethernet connection
• Universal plug and play (UPnP)
• Embedded access control application software
• SOAP Web Service support
• Administration through standard Web browser
• Local 500 users/5,000 events
• RS485 communication with Door units
• Supports all standard readers


Master Unit 524 - Up to 24 readers locally, 96 readers clustered
• Built-in web server
• Access and system status reporting
• 10/100 Mbps Ethernet connection
• Embedded access control application software
• SOAP/REST Web Service support
• Administration through standard Web browser
• Local 30,000 users/40,000 events
• RS485 communication with Door Units
• Supports all standard readers
• Upload configuration and events data to FTP/SCP host


Door Unit (DU) - The e-DATA Door Unit provides the interface for all access-point control hardware and readers. Each Door Unit provides two reader connections supporting two control modes: single-door secured exit or two individual doors using a "request for exit" configuration.

When configured using a Master Unit, the Door Unit supports all standard access control readers using an RS485 and Wiegand data connection.

The Door Unit connects easily with a Master Unit using RS485 communication between modules, providing a scalable solution by simply adding additional Door Units for distances up to 4,000 feet.

All Door Unit connections come with pre-defined factory defaults that can be customized from a supported Master Unit controller's embedded access control application software.

Features
• Reader inputs (Wiegand/RS485 configurable)
• Reader beeper and LED control
• Local power to readers
• Locking hardware/sounder
• REX devices
• Frame contact status
• Tamper/lockdown
• RS485 communication with Master Units
• I/O remapping via Master Unit's embedded application software
e-DATA's Single Door Unit features all the benefits of biometric access control, only in a standalone, offline module that's designed for one entry point. The data management and enrollment are handled right at the Fingerprint Key biometric reader. And just like our larger enterprise systems, it's all embedded and requires no software or servers. That makes installation easy and straight out of the box, with no certification necessary.

Benefits
• Fingerprint Key suitable for up to 50 users in low-traffic areas
• Indoor/outdoor rated
• Sleek, compact design (single-gang mount; 4.7 x 2.4 x 1.8 inches)
• Available in standard black, white and silver
• Works with low-voltage power (12-24V DC; 24V DC recommended)
• Works with standard locking hardware
• Scalable using existing Fingerprint Key
• Also serves as keyswitch for alarm/lighting systems

Fingerprint Key™ Datasheet 249KB
MU200 Datasheet 147KB
MU524 Datasheet 356KB
Single Door Unit Datasheet 561KB