Cisco PAP2T, SPA2102 & SPA3102 ATA's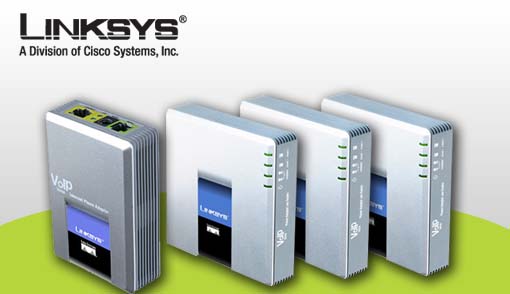 ---
Bridge the technical gap between analog telephones and fax machines in homes and businesses with IP networks
With the SPA series, individuals and companies are able to protect and extend their past investments in telephones, conference speakerphones and fax machines as well as control their migration to IP with an extremely affordable, incremental investment.
Installed by the end user and remotely provisioned, configured and maintained by the service provider, each SPA converts voice traffic into data packets for transmission over an IP network. The SPA can be used in consumer and business IP telephony service offerings including full-featured IP Centrex. The SPA delivers clear sounding voice and reliable fax calling through its implementation of internationally recognized standards for voice and data networking.
Cisco has been interoperable tested with ABP's recommended NAT traversal product for ISPs making this gateway virtually plug and play.
See also SIPEXpress Residential 2 Port SIP Gateway to connect two standard analog phone devices and one PSTN life line.
Please call ABP to discuss provisioning options including our new hosted provisioning server to jump start your mass deployment.

Product Line Overview
Product Applications Scenarios
Resources
PAP2T-NA: 2 Ports FXS, 1 LAN
SPA2102 : 2 Ports FXS, 2 LAN-WAN
SPA3102 : 1 Port FXS, 1 Port FXO, 1 LAN
SPA 2102

2

4

2

0

PAP2T

2

4

2

0

SPA 1001

1

2

1

0

SPA 3102

2

3

1

1

Notes: the SPA-2102 supports up to 2 sessions using G729.
The SPA-1001, PAP2T and SPA-3102 support one G729 session.
Independently configurable phone ports;
Message Waiting Indication - Visual and Tone Based
Distinctive and configurable ringing;
Selective / Anonymous Call Rejection;
Off-Hook Warning Tone; Speed Dialing; Do Not Disturb;
Call Return, Call Waiting, Cancel Call Waiting
Caller ID with Name/Number, Caller ID Blocking
Call Waiting Caller ID with name and number;
Call Forwarding: No Answer/Busy/All; Call Transfer;
Three-Way Conference Calling with Local Mixing;
Call Back on Busy;
Call Blocking with Toll Restriction;
Delayed Disconnect, Hot Line and Warm Line Calling;
Downloadable firmware updates;
Speed Dialing of 8 Numbers / Addresses
Terminating Impedance Agnostic - 8 Settings
Corporate Private Telephony Networks
Internet Telephony Service Provider Network for Residential Users ISP Voice Services
OPX Off Premise Extensions for PBX or IPBX (Phone and FAX)