Cisco Phone Adapter 3102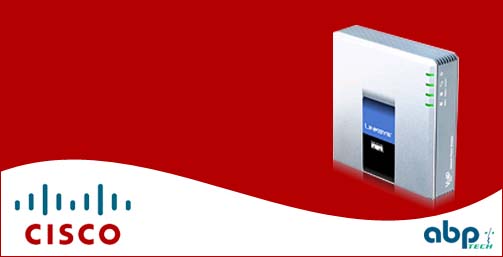 ---
Intelligent Call Routing Gateway Solution for VoIP. 1 Ports FXS, 1 Port FXO Analog Telephone Adapter, 1 Ethernet Port LAN
The SPA-3102 features VoIP adapter functionality found in the SPA-1000/1 with the additional benefit of an integral connection for legacy telephone network "hop-on, hop-off" applications. SPA-3102 users will be able to leverage their broadband phone service connections more than ever by automatically routing local calls from cell phones and land lines to a VoIP service provider and vice versa.
A typical user calling from a land line or mobile phone will be able to reduce and even eliminate international and long distance telephone charges by first calling their SPA-3102 via a local phone number or by using a telephone connected directly to the unit. The advanced authentication and call routing intel-ligence programmed into the SPA-3102 will connect the caller via the Internet to the far end destination with security and ease. Using the SPA-3102 at the far end, calls can be answered immediately or further processed as a local call to any legacy land line or mobile phone allowed by the SPA-3102 dial plan.
If power and/or IP network connectivity is lost to the unit or the VoIP service is down, calls can be sent to a traditional carrier via the FXO interface.
The SPA3102 was announced by Cisco as a replacement for the SPA3100.
Product Line Overview
Product Applications Scenarios
Resources
Independently configurable phone ports;
Fax Tone Detection Pass-Through. Fax Pass-Though - Using G.711
Message Waiting Indication - Visual and Tone Based
Distinctive and configurable ringing;
Selective / Anonymous Call Rejection;
Off-Hook Warning Tone; Speed Dialing; Do Not Disturb;
Call Return, Call Waiting, Cancel Call Waiting
Caller ID with Name/Number, Caller ID Blocking
Call Waiting Caller ID with name and number;
Call Forwarding: No Answer/Busy/All; Call Transfer;
Three-Way Conference Calling with Local Mixing;
Call Back on Busy;
Call Blocking with Toll Restriction;
Delayed Disconnect, Hot Line and Warm Line Calling;
Downloadable firmware updates;
Speed Dialing of 8 Numbers / Addresses
Terminating Impedance Agnostic - 8 Settings
VoIP to PSTN Gateway Enable/Disable
VoIP Caller Auth Method (None, PIN, HTTP Digest)
VoIP PIN Max Retry Setting
One Stage Dialing Enable/Disable
VoIP Caller ID Pattern Matching
VoIP Access Allowed Caller List (No Further Authentication)
VoIP Caller PIN and Associated Dial Plan
PSTN to VoIP Gateway Enable/Disable
VoIP Caller Auth Method (None, PIN, HTTP Digest)
Ring Through to FXS Enable/Disable. Ring Through Tone - Configurable
Caller ID (Bellcore Type 1) for VoIP Service Access. Caller ID Enable/Disable
Access Allowed Caller List (No Further Authentication)
Caller PIN and Associated Dial Plan
Least Cost Routing (via Outbound VoIP - Line1 Dial Plan)
VoIP Answer Delay Timer. PSTN Answer Delay Timer
VoIP PIN Digit Time-Out Timer. PSTN PIN Digit Time-Out Timer
PSTN-to-VoIP Call Max Dur Timer. VoIP-to PSTN Call Max Dur Timer
PSTN Ring Through Delay Timer. PSTN Dialing Delay Timer
VoIP DIG Refresh Interval Timer
PSTN Ring Time-out Timer
PSTN Disconnection Detection Features
CPC (Removal of Tip/Ring Voltage Momentarily). Polarity Reversal
Long Silence (Configurable Time Setting). Disconnect Tone (e.g. Reorder Tone)
Silence Threshold
International Control Features
• FXO Port Impedance - Configurable to 16 settings;
• Ring Frequency - Configurable
• SPA to PSTN and PSTN to SPA Gain Settings
On-Hook Speed Setting
Ringer Impedance Setting
Line-in-Use Voltage Setting
Corporate Private Telephony Networks
Internet Telephony Service Provider Network for Residential Users ISP Voice Services
OPX Off Premise Extensions for PBX or IPBX (Phone and FAX)