Cisco PAP2T-NA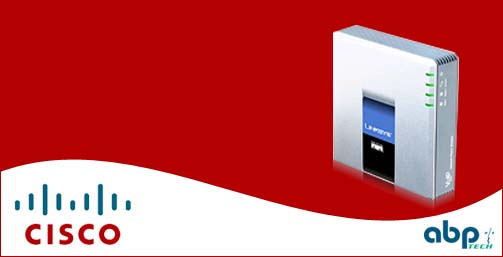 ---
2 Ports FXS Analog Telephone Adapter, 1 Ethernet Port LAN
Inexpensive, easy-to-install and simple-to-use, the PAP2T-NA connects standard telephones to IP-based data networks. IP telephony service providers and enterprises can offer users traditional and enhanced communication services via the customer's broadband connection to the Internet or Local Area Network (LAN).
The Cisco PAP2T Internet Phone Adapter enables high-quality feature-rich VoIP (voice over IP) service through your broadband Internet connection. Just plug it into your home Router or Gateway and use the two standard telephone ports to connect analog phones or use one of the ports for a fax machine. Each phone port operates independently, with separate phone service and phone numbers, like having two telephone lines. You'll get clear reception and a reliable fax connection, even while using the Internet at the same time.

Discover ABP's Configuration,Provisioning and Fulfillment service. The key to profits is to focus on core competency. Leave the CPE handling to us and develop a better product, an improved concept. Put energy into and sales and marketing! We think that's a handfull.
Product Line Overview
Product Applications Scenarios
Resources
Independently configurable phone ports. Two voice ports (RJ-11) for analog phones or Fax machines
Fax Tone Detection Pass-Through. Fax Pass-Though - Using G.711
Call Waiting, Cancel Call Waiting, Call Waiting Caller ID
Caller ID with Name/Number (Multi-national Variants);Caller ID Blocking
Call Forwarding: No answer, Busy, All
Do Not Disturb
Call Transfer
Three-way Conference Calling with Local Mixing
Message Waiting Indication - Visual and Tone Based
Call Return; Call Back on Busy
Call Blocking with Toll Restriction
Delayed Disconnect
Distinctive Ringing - Calling and Called Number
Off-hook Warning Tone
Selective/Anonymous Call Rejection
Hot line and Warm Line Calling
Speed Dialing of 8 Numbers/Addresses
Music on HoldMessage Waiting Indication - Visual and Tone Based
Downloadable firmware updates;
Terminating Impedance Agnostic - 8 Settings
G.711 (A-law and µ-law); G.726 (16/24/32/40 kbps); G.729 A (only one per FXS port);
G.723.1 (6.3 kbps, 5.3 kbps)
Corporate Private Telephony Networks
Internet Telephony Service Provider Network for Residential Users ISP Voice Services
OPX Off Premise Extensions for PBX or IPBX (Phone and FAX)