AVer Video Conferencing Solutions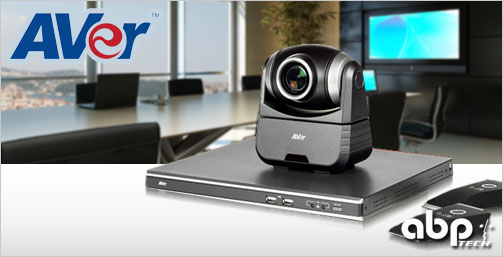 ---
Video Conferencing Made Simple
| | | |
| --- | --- | --- |
| AVer Video Conferencing is an easy to use communication tool perfect for small businesses with multiple locations. A perfect UC application at an affordable price for the SMB budget. Even a large enterprise needing to simply and affordably expand their existing video conference capabilities can take advantage of AVer. | | |
AVer's HVC Series is the most versatile HD video conferencing solution on the market today. With HD Video and HD voice it's a simple yet elegant system with premium features such as full duplex audio, HDMI, multi-site conferencing and recording into a single budget-friendly package. The included 3-year warranty with one year of advanced replacement is an AVer exclusive and shows the commitment to quality and reliability.
| | | |
| --- | --- | --- |
| Features | HVC110 | HVC310 |
| Easy Integration | X | X |
| VoIP and SIP Support | X | X |
| External 3rd Party Mic Support | X | X |
| VC Player and Quick Time Converter | X | X |
| VCLink mobile app and ScreenShare | X | X |
| Full Duplex Audio and Echo Cancellation | X | X |
| HDMI Connectivity | X | X |
| HVC310 Exclusive Features: | | |
| Integrated 4-Way MCU | | X |
| One-touch Recording | | X |
| Dual Directional Mics | | X |
| Snapshot Sharing | | X |
AVer Video Conferencing is typically utilized in the following applications:
HQ and Branch Office Communication:
For businesses with multiple locations, AVer Video Conferencing is the perfect bridge to efficient communication between branches. HD video and audio enhance meetings by seeing body language and hearing clear voice tones to gain more accurate meaning from presentations, demonstrations and reactions. The ability to communicate branch offices to each other and HQ, members are better connected whether spontaneous or scheduled.

Existing Video Communication Expansion:
For corporations with an existing room-based video conference infrastructure, AVer solutions allow companies to easily and affordably expand their video communication capabilities with additional endpoints and multi-point systems compatible with other H.323 products and bridges.
Partner & Client Communication:
AVer solutions allow business to build and maintain relationships with partners and clients, providing a consistent means for virtual face-to-face meetings.

HR Training & Continued Education:
Improve empl;oyee communications as HR representatives conduct trainings and meetings over video to branch offices or remote employees. Consultants, benefits administrators and management trainers can deliver sessions over video. Offer virtual education and distance learning courses for employees through video conferencing to expand trade and business education opportunities.
Contact ABP to learn more about the AVer Video Conferencing Solution or take the AVCTest Drive with AVer.