Analog VoIP Gateways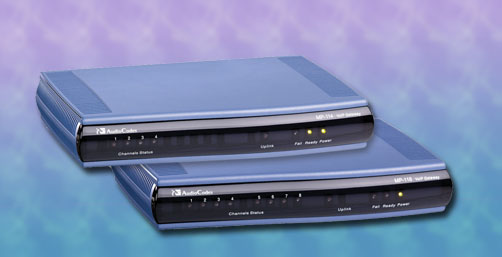 ---
AudioCodes 2 - 24 Analog VoIP Gateways
The MediaPack™ Analog Media Gateway are rock solid field proven analog gateways with a mature and solid SIP implementation.
Audiocodes product family is based on AudioCode's' field-proven carrier class and best-of-breed VoIP technology. Featuring 2, 4, 8 or 24 analog ports, the gateways connect analog terminals, PBXs or key systems to the IP network using FXO or FXS connectivity.
Compliant with multiple protocols including SIP, H.323, MGCP and MEGACO, the Analog Media Gateways enable flexible deployment and interoperability for the evolving next generation networks. Using AudioCodes' Analog Media Gateways, Network Equipment Providers and System Integrators can effectively deliver carrier-hosted converged services as well as enterprise-based applications.
Package an AudioCodes Gateway with a proxy to provide SIP VoIP telephony over your private or public Internet connection, and connectivity to the PTSN for a complete Enterprise telephony solution!
Contact ABP to learn more about Analog VoIP gateways.

Features
Technical Specifications
Product Applications Scenarios
Downloads
The MediaPack™ product family are cost –effective, cutting edge technology solutions. These stand-alone analog VoIP Gateway subsystems provide superior voice-technology for connecting legacy telephony and PBX systems as well as integration with new IP-Based PBX architecture.
This product line is well suited for VoIP deployments and are designed to be fully interoperable with leading SoftSwitches, Gatekeepers, and SIP servers.
The new MediaPack™ unit coming out includes:
Enlarged FLASH, RAM and DSP memory as well as more powerful processor and enhanced features such as IP, SRTP, HTTPS and more.
Small foot print, slick plastic enclosure
Outdoor protection and surge immunity according to TNV-3, as standard ordering option.
Port to Port Fall Back on the mixed FXS/FXO product variants.
Backwards compatibility with the MP-1XX (H.323, MGCP, SIP, provisioning, etc.)
Analog front capabilities (CID, long Haul, MWI, Metering tones, etc.) as the MP-10X
Designed for improved homologation coverage for FXO variant.
spans 2 - 24 analog ports
IP network 10/100 Base-T Ethernet
MGCP, H.248, H.323, SIP
Web MGMT for easy config and install
Selectable, multiple LBR coders per channel
Supports FXS/FXO
Echo cancellor, jitter, buffer, VAD adn CNG
T.38 compliant
Internal power supply
Please download the PDF file for complete specifications
Enterprise VoIP deployment
POTS & FAX extensions for IP PBX
VoIP private PBX networking
Calling cards, pay phones, hotels
MTU access gateways
VoIP app servers (UM, recording/monitoring)
AudioCodes Gateways Data Sheet
AudioCodes MP11X Series Data Sheet
MediaPack™ is a trade mark of AudioCodes Ltd.