The Asterisk Appliance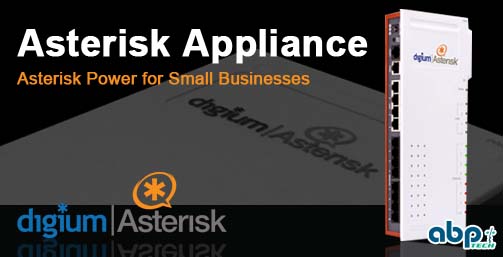 ---
An IP PBX Appliance designed for Asterisk as an open ended system for resellers to build solutions with a solid state device
The Asterisk Appliance, available for resellers and VoIP service providers, is a standalone embedded Asterisk-based PBX with hardware and storage into a box for small and middle size offices (2-50 users), and remote branch offices of larger organizations (2-50 users per site).
The Asterisk Appliance features the commercially licensed Asterisk Business Edition™ software, as well as the first Digium developed Asterisk GUI. The Asterisk GUI was created to make the configuration, management, and fine tuning of your Asterisk distribution easier by providing an easy to use graphical interface.
The Asterisk Appliance is a slim box that includes eight analog ports and five Ethernet ports (4 LAN – 1 WAN). Storage for voicemail and e-mail is done in compact flash memory (1GB). Hardware for echo cancellation is included.
The Appliance includes all the Linux components necessary to run, debug and build Asterisk, on it. You no longer have to worry about kernel versions and package dependencies. Unlike other Linux distributions used to deploy Asterisk, no unnecessary components that might compromise security or performance are included.
Asterisk allows you to create a PBX solution that rivals the features and functionality of traditional telephony switches. It is cost effective, low maintenance, and flexible enough to handle voice and data networking. Using the Appliance, anyone can replace an existing small business PBX. The Asterisk Appliance will work with most standards-based IP telephone handsets and softphones.
Contact ABP to learn more about the Digium™ Asterisk Appliance.
Technical Specifications
Downloads
Physical
Size: 11.7" × 7.5" × 1.72" (29.72 x 19.05 x 4.37 cm)
Weight: Full Assembly 1.4 lbs (635g)
PCB only 6.3 oz (179gm)
(no housing or modules)
Interfaces
LAN Ports - Quad RJ45 10/100baseT
WAN Port - RJ 45 10/100baseT
Analog Ports - Octal RJ11
Craft Port - RJ45
DC Power - 6.3mm O.D., 2mm pin; 12V 3A center positive
CompactFlash - Type 1
Environment
Size: 11.7" × 7.5" × 1.72" (29.72 x 19.05 x 4.37 cm) Weight: Full Assembly 1.4 lbs (635g)PCB only 6.3 oz (179gm)(no housing or modules)
Physical
Temperature: 0 to 40° C (32 to 104° F) operation
-20 to 70° C (4 to 158° F) storage
Humidity: Up to 90% non-condensing
Maximum 12V Power Consumption: 36Watts