Asterisk Business Edition™

---
An enterprise-grade version of the acclaimed open source PBX for the Linux operating system
Digium, the leader in open source telephony, now provides Asterisk Business Edition™, a professional-grade version that adds tested reliability of critical functions and features, tailored for small- and medium-sized business applications.
It solves a wide range of challenges, from common PBX and key system replacements to highly-specialized applications. Asterisk Business Edition supports up to 40 simultaneous calls with upgrades to 240 calls available.
Asterisk Business Edition includes a supported rPath™ Linux distribution with an enhanced installer, an Asterisk technical manual and a quick-start guide; making Asterisk even easier to install, configure, and use.
Asterisk Business Edition is backed by Digium's professional support team for one full year. This provides enterprise environments with a PBX and telephony platform suitable for critical business applications.
Digium's comprehensive test program ensures Asterisk Business Edition's reliability, performance, and interoperability with key hardware, software, and protocols. Digium hardware is tested for full compatibility with Asterisk Business Edition, as are select models of servers, VoIP, and TDM devices. All major software features in Asterisk Business Edition are thoroughly tested for functionality and reliability. Test bed systems have been subjected to extreme stress conditions using Empirix™ test equipment to simulate hundreds of thousands of calls in various real-world combinations and configurations. As a result, customers can rely on their combination of proven Asterisk software and Digium hardware to work together to provide feature-rich PBX or VoIP system.
The new Asterisk Business Edition B1 version improves on security and scalability by integrating Ranch Network's Asterisk security code, features speech recognition capabilities using the LumenVox Speech Engine, text-to-speech applications using the Cepstral Text-to-Speech System, and comes with a customized Linux distribution to simplify installation. The Asterisk Business Edition B.1 will also improve on interoperability by now offering built-in support for Intel Dialogic Products and Aculab Prosody X cards.
Contact ABP to learn more about Digium's Asterisk Business Edition.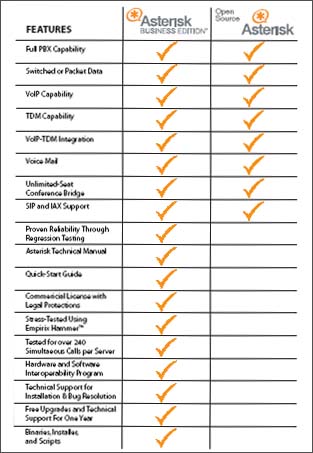 Asterisk Business Edition Brochure