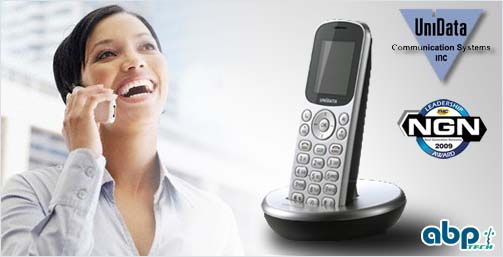 ---
Enterprise Wi-Fi Phone
Wireless IP Phones continue to find wide acceptance in Enterprise, Medical, University Campus, Retail, Insurance and Financial space. Executives and administrators are happily noticing the reduction in costs associated with a decreased use of cell minutes while within their access points' on-site range. Call quality of WiFi is superior to cell and productivity is up when the incoming calls can be handled and transferred just as if the user was at their desk. More users are asking for the ability to tie their wireless laptop and their mobile communications into a common platform. Wireless equipped laptops now are the majority of all new laptops shipped, so the base of users is exponentially growing.

The WPU7700 wireless IP phone shows several interesting VoIP functions enjoyable at wireless telephony absolutely free from cords. Fancy, clean communication quality embodied by QoS-supporting the advaced protocol WMM™
The WPU7700 outstanding SIP stack based wireless internet phone makes possible compatibility with lots of SIP standardized IP PBX, thanks to close cooperation with global leading equipment solution providers in VoIP communications fields. It is also proud of compatibility proven through field test running against various security solutions used by big business groups laying top priority on security.
Contact ABP to learn about cooler, safer and better mobility!